Ivy Jacobsen, All in Time, Oil on wood panel, 48 x 72 inches.
As spring unfolds and bare winter branches give way to budding blooms, Momentum Gallery presents Emergence, a collection of recent works by three artists that reveals the magic and mystery of the season. Artist, archeologist, and anthropologist Alysia Fischer incises intricate leaf patterns into rubber innertubes, upcycling them into draping wall pieces and freestanding stitched sculptures that reference seed pods and chrysalides. Vicki Grant's architectural compositions of textured and painted porcelain integrate with actual seed pods, mineral specimens, and live-edge sections of wood evoking the surface of stone and tree bark. The exhibition features new works from Grant's ongoing Botanical, Windows to the Earth and Quilted Whimsey Series along with elongated cylindrical Spirit Sticks and the debut of the NC artist's latest 16 x 16 inch wall sculptures, Woodland Harmonies, that sandwich Grant's textural clay between spalted maple boards. Ivy Jacobsen's moody and atmospheric paintings of trees, wildflowers, and hanging gardens offer an unexpected look at flora and the drama and beauty of her botanical subjects. Rendering space through layers of veiled elements, Jacobsen's paintings evoke a sense of calm and wonder.
Emergence continues at the gallery's 24 N Lexington Avenue location through May 2020.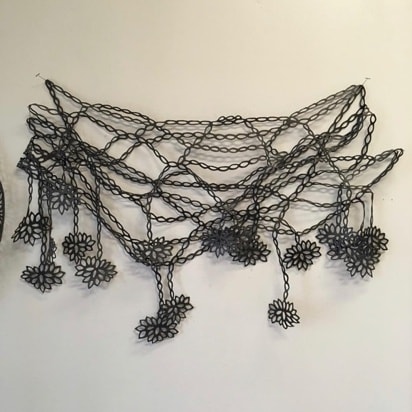 Alysia Fischer, Daisy Chains, incised rubber.
Vicki Grant, Woodland Harmonies - 20005, Spalted maple, porcelain and mixed media,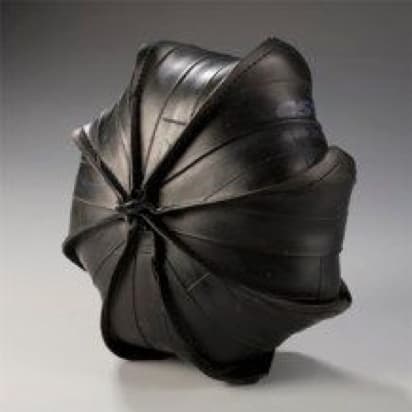 Alysia Fischer, stiched rubber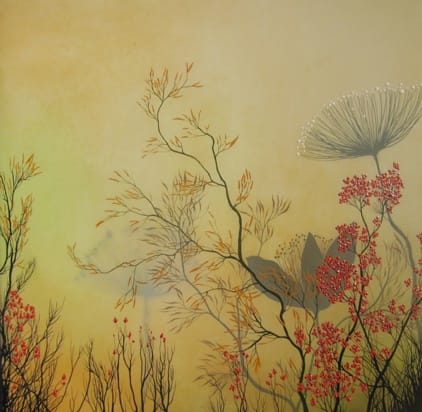 Ivy Jacobsen, Noon Drops, Oil and resin on wood panel, 20 x 20 inches.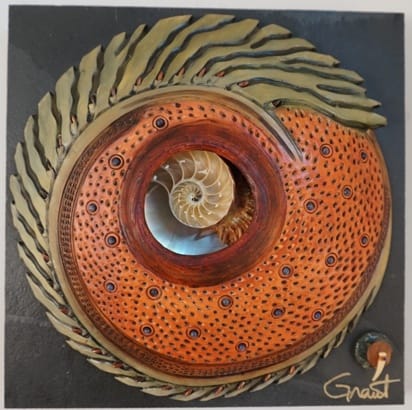 Vicki Grant, Windows to the Earth, Porcelain & mixed media on slate, 12 x 12 x 2 inches.