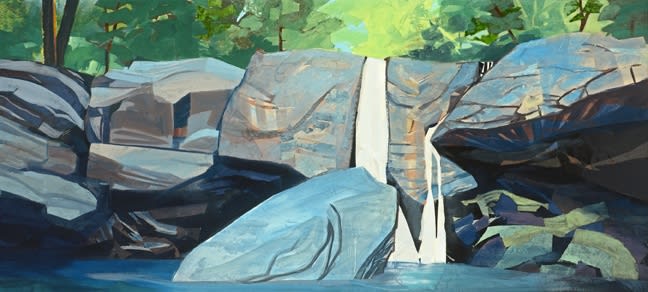 Mariella Bisson, Waterfall Panorama, Oil and mixed media on linen, 34 x 74 x 2 inches
Momentum Gallery is pleased to host an Artist Reception with landscape painter, Mariella Bisson, on Friday, April 27th, from 4-7pm. This is a rare opportunity to meet Mariella and see some of her recent works, as she visits from New York. Wine and light refreshments will be served. This event is free and open to the public.
You can learn more about Mariella Bisson here: https://momentumgallery.com/artists/34-mariella-bisson/overview/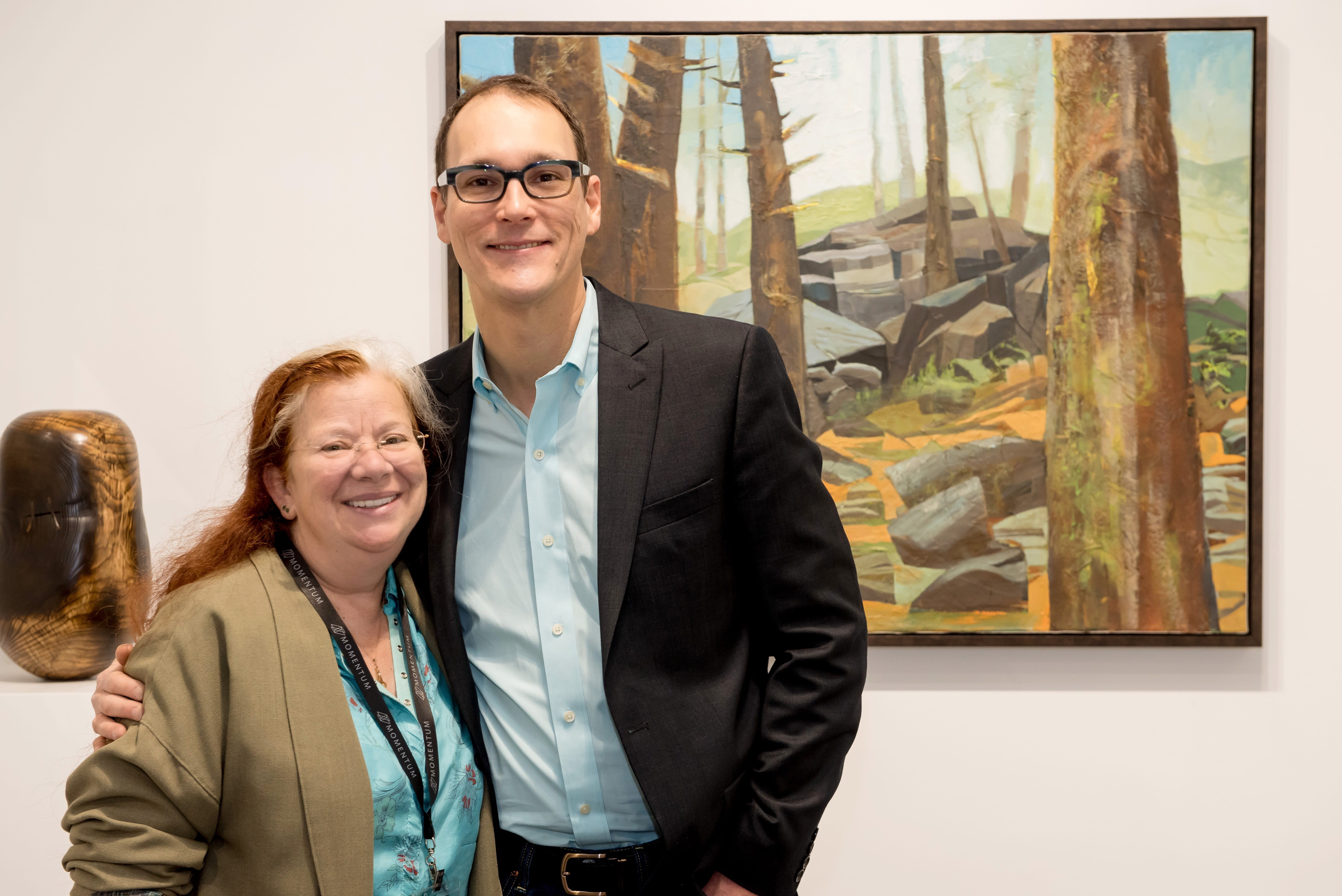 Mariella Bisson and Jordan Ahlers, Momentum Gallery, October 2017

"My mixed media paintings read as landscape, rock and water. They dissolve into abstraction and geometry. I begin with a field painting created outdoors on site. I avoid the use of photography, preferring to base my compositions on drawing and field painting having the immediacy and power of landscape in its rocky reality.

"I move between abstraction and figuration making images of primal forces -- gravity, light and darkness, endless geological time. Collage satisfies my need to improvise, to work quickly, using accidental and impromptu marks, drawing and painting freely across a textured surface of paper fragments. Layers of paper replicate geological layers of rock under pressure. Small flickering fragments of paper communicate the effects of sunlight and moving shadows." – Mariella Bisson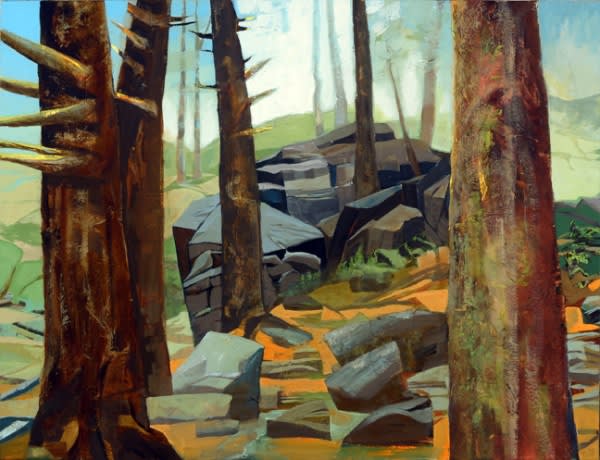 Mariella Bisson, Tress, Morning Mist, Smoky Mountains, Oil and mixed media on linen, 38 x 50 x 2 inches
Born and raised in Northern Vermont, Mariella Bisson earned a BFA in Drawing from Pratt Institute in Brooklyn, NY in 1978. Her work has won many awards including three years of support from the Pollock Krasner Foundation (1990 and 2014-15) and a 2012 NYFA (New York Foundation for the Arts) Fellowship in Painting. She has been awarded grants from the Gottlieb Foundation, Robert Rauschenberg's CHANGE Foundation, the Artists Fellowship, The Dutka Foundation and others. Her travels have included more than 25 residencies, such as Byrdcliffe, The Hambidge Center, The Banff Centre, The Vermont Studio Center, and The Santa Fe Art Institute.

Her paintings can be found in corporate collections including Philip Morris, Pfizer, White & Case LLP, Wedge Capital Management, Albemarle Corporation, Talisman, Dun and Bradstreet, Standard & Poors, and many others. Her paintings are also in several hospital collections including Memorial Sloan Kettering in NYC and New Jersey, The Mayo Clinic, The North Georgia Health Service Hospital at Braselton, Ga., Fletcher Allen Hospital in Vermont, and Orange County Regional Medical Center in N.Y.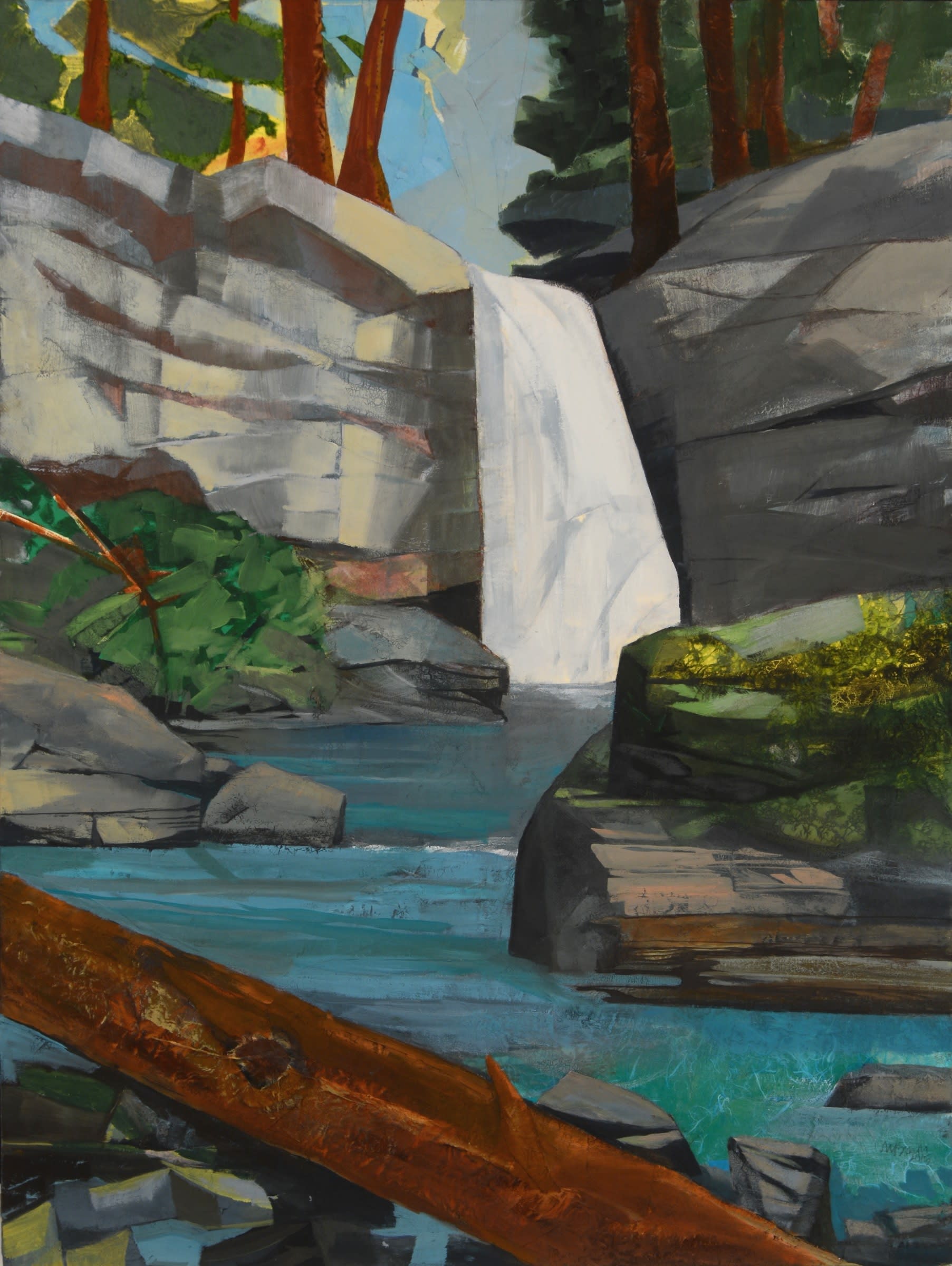 Mariella Bisson, Waterfall, Time and Forest. Oil and mixed media on linen, 40 x 30 x 2 inches