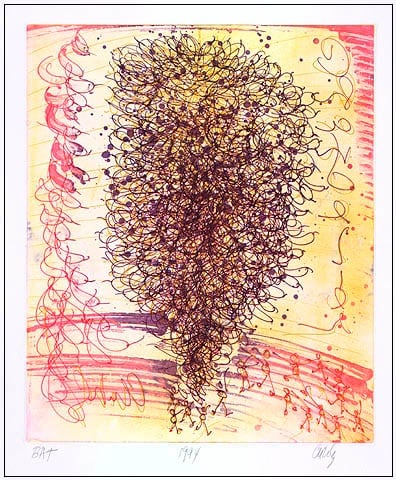 Dale Chihuly, Chandelier, Vitreograph, Edition of 50, 36 x 30 inches
We are thrilled to be exhibiting Dale Chihuly's intriguing work to commemorate the Chihuly installation at the Biltmore Estate! The Chihuly work can be seen at Momentum Gallery, along with the memorable work of Therman Statom, as part of the Summer of Glass 2018. The show opens with a reception on July 1st, from 5-8pm. Wine, beer, and light refreshments will be provided. This event is free and open to the public. All are welcome. Come see Chihuly's work in our downtown Asheville art gallery through August 25th.
Dale Chihuly, Persians, Vitreograph, Edition of 50, 36 x 30 inches
Momentum Gallery will be exhibiting select glass pieces by Dale Chihuly in addition to an exclusive collection of vitreographs produced at Harvey Littleton's Studio in Western North Carolina. Chandelier, reflects the artist's series in glass which Chihuly has revisited since his ambitious Chihuly Over Venice project in 1996. Experience this series in glass at Chihuly at Biltmore, on exhibit through October 2018.
Dale Chihuly (b.1941) is a multi disciplinary American artist with an extensive history in the field of studio glass. He is known worldwide for his creation of large scale environmental installations. He also creates sculptures for personal collections, paints, and has made prints and vitreographs based upon his noted work. As a pioneer in his primary medium, he cofounded the Pilchuck School of Glass in Washington state.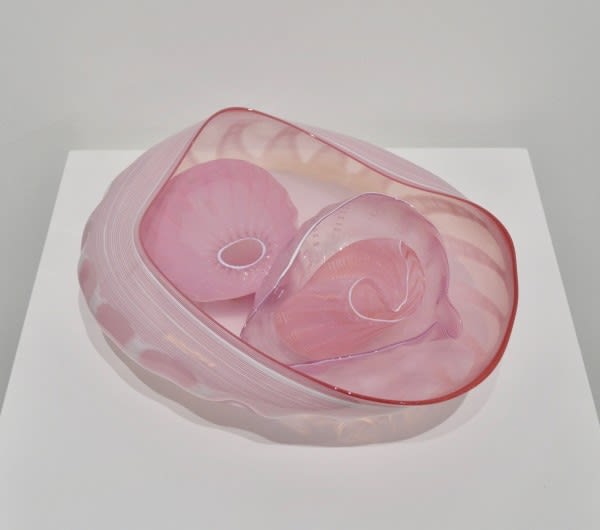 Dale Chihuly, UNTITLED, 1981, Blown glass, 3-1/4 x 11-1/2 x 8-1/4 inches
Arguably one of the most famous glass artists in the world, he began his foray into design work when he attended the University of Washington in Seattle. In 1963, he took a weaving class where he incorporated glass shards into tapestries. Chihuly graduated from the University of Washington in 1965 with a Bachelor of Arts degree in Interior Design. Chihuly began experimenting with glassblowing in 1965 and in 1966 he received a full scholarship to attend the University of Wisconsin - Madison. There, he studied under Harvey Littleton, who established the first glass program in the United States at that school. In 1967, Chihuly received a Master of Science degree in Sculpture. Chihuly earned a Master of Fine Arts degree in sculpture from the Rhode Island School of Design in 1968. At that time, he was awarded a Louis Comfort Tiffany Foundation grant for his work in glass, as well as a Fulbright Fellowship. He then traveled to Venice to work on the island of Murano, where he first saw the team approach to blowing glass. After returning to the United States, Chihuly spent the first of four consecutive summers teaching at the Haystack Mountain School of Crafts in Maine.
Chihuly's art appears in permanent personal, corporate, and museum collections all over the world, including in the United States, Canada, England, Singapore, and in the Middle East.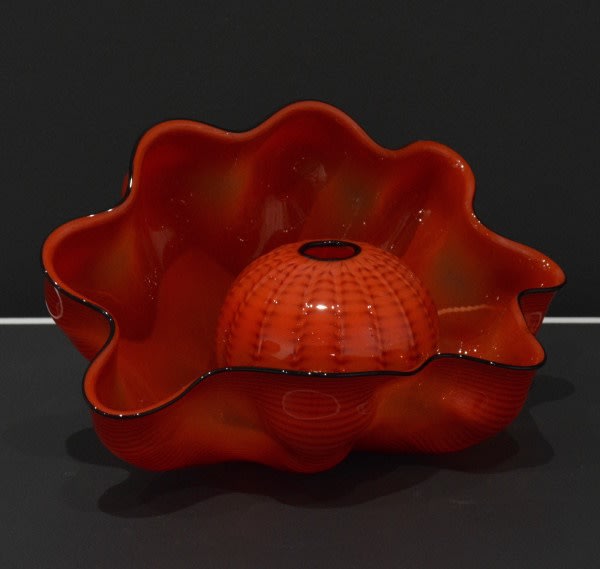 Dale Chihuly, Studio Edition, CHINESE RED SEAFORM PAIR, 1995, Blown Glass, 6 x 11 x 7 inches