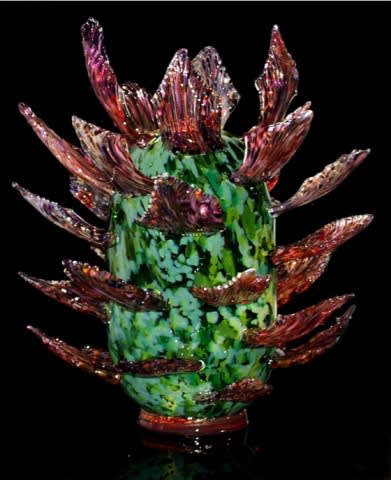 Dale Chihuly, Terre Verte & Prussian Green Venetian with Madder & Gold Leaves,
Blown and hot-formed glass, 17 x 14 x 12 inches
We are honored to present a special collection of work by two pioneers in the field of studio glass, Dale Chihuly and Therman Statom. Held in conjunction with Asheville's Summer of Glass, the collection features original blown glass objects from Dale Chihuly, Chihuly Studio, and original works including unique serigraph on plate glass shadowboxes from Therman Statom. The gallery is also thrilled to include a curated collection of original vitreographs, printed in small editions here in WNC at Littleton Studios, when Chihuly and Statom visited the area previously. Note: Due to popular demand, we recently brought in additional Dale Chihuly vitreographs Ikebana, and Piccolo Venetians as well as a dramatic Chihuly glass sculpture, Terre Verte and Prussian Green Venetian with Madder and Gold Leaves.
Dale Chihuly, Piccolo Venetians, Vitreograph, intaglio print from glass plates, 30 x 24 inches, AP
The collection at Momentum is a nice complement to Chihuly's installation on view at Biltmore through October. Momentum Gallery's exhibition continues through August 25th. If you haven't been in to our art gallery in downtown Asheville recently, come check out this amazing work!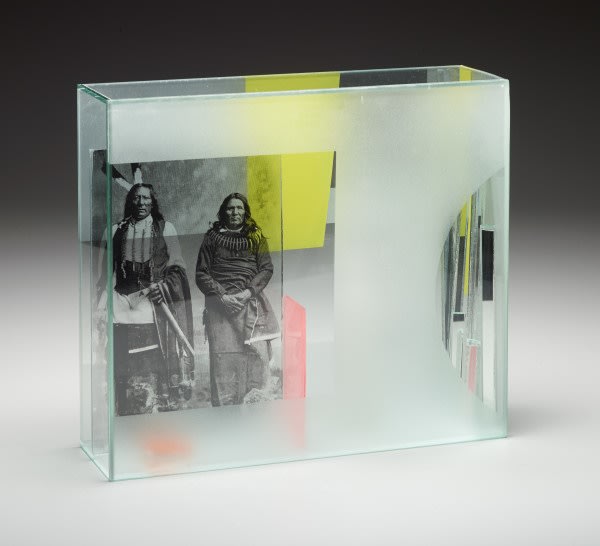 Therman Statom, Native, Screen-printed sheet glass with mixed media, 14 x 17 x 6 inches