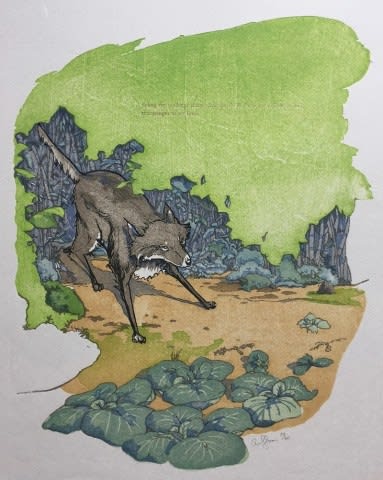 Andy Farkas, Strength of No Force, Moku Hanga, 11 x 9 inches, Edition of 60
We are thrilled to announce that Andy Farkas has a new moku hanga print available! His latest print, titled, Strength of No Force, comes with an original chat book by the artist, Magic, which beautifully compliments his editioned image. Farkas tells a tale of the grey wolf who finds himself in a lush garden in this eloquent short story. The handset letterpress type on this piece reads: "Failing the challenge illuminated the choice he never realized he had, the strength of no force."
Followers of Andy's work often ask about the stories that each print comes from -This is your opportunity to acquire his newest print and the story related to it (as a special bonus)!
Andy Farkas will be in attendance at our upcoming Artist Reception on Friday, October 5th, from 5-8pm at our downtown Asheville art gallery at 24 N Lexington Avenue. Come meet the artist and have a drink with us! We look forward to seeing you!
We are privileged to represent Andy Farkas and look forward to sharing his newest print and chat book with you! Please call the gallery to reserve your personal copy of this special release orginal woodblock print and accompanying chat book at 828-505-8550.

Andy Farkas, More than enough, Moku Hanga, 14-1/2 x 5-1/2 inches, Edition of 51