Momentum Gallery is proud to announce a partnership with Chihuly Studio. The move to our new space on Broadway marks the debut of a substantial collection which features glass sculptures and hand-embellished serigraph prints from the studio of the renowned Seattle artist. "We are thrilled to collaborate with Chihuly and provide access to this outstanding work in a region historically significant to the field of studio glass," says Jordan Ahlers, Momentum Gallery's Owner and Director.
In 2018, a collection of Dale Chihuly's glass was assembled at the majestic residence and gardens at Biltmore Estate in Asheville drawing tens of thousands of visitors to see works by the Washington-state based artist. This is not the only connection Chihuly has to the mountains of western NC. The artist previously visited the area at the invitation of one of his mentors, Harvey Littleton (1922-2013). In the late 80s and again in 1994, Littleton and Chihuly worked together on a series of original vitreograph prints (a process invented by Littleton which involves etching on glass plates). Momentum illustrates this connection, exhibiting original vitreographs from Dale Chihuly along with work by the late Harvey Littleton.
As part of our collection, Momentum Gallery is pleased to offer three dramatic works released earlier this month! The 2021 Chihuly Studio Editions - Viola Plum Macchia, Rosetta Persian, and Seagrass Seaform - are exuberant works that exemplify Chihuly's passion for color and form.
Viola Plum Macchia, 2021 Chihuly Studio Edition
Two defining characteristics of Dale Chihuly's Macchia series are the contrasting interior and exterior colors and the "spots" created by colored-glass frit, or "jimmies." To achieve these qualities, the interior color of the sculpture is applied to the molten clear-glass bubble. The bubble is then rolled over chunks of white glass, which keep the interior and exterior colors separate and provide a clean, white canvas on which to apply more color in the form of mineralized, organic pigments such as glass powder, dust, and frit. These colors then stretch and striate under the ministrations of breath, heat, and gravity to become vessels pulsing with energy and free-form abandon.
Chihuly's passion for color is born out of his mother Viola's extensive gardens and glorious sunsets over Puget Sound. The 2021 Viola Plum Macchia is a landscape of abundant colors with exterior spots and striations of purple, red, blue, and yellow yielding to an interior of deep plum. A low-profile form encourages views of the center, where the exterior colors converge in a kaleidoscopic manner. A steely blue lip wrap complements both the interior and exterior palettes.
"For Chihuly is no formalist; he needs to imply movement and growth. His technical innovations and refinements serve only to provide more options-relating to what he can make glass do and what associations he can suggest to natural phenomenon." -Linda Norden, Dale Chihuly: Glass, 1982
Dale Chihuly's Persian series, which began as an exploration of new forms, serves as a contemporary expression of timeless beauty and a demonstration of wild asymmetry that borders on defiance. Whether presented on pedestals or in large wall or ceiling installations, Persians elicit wonder in their beholders and notions of exotic ancient civilizations.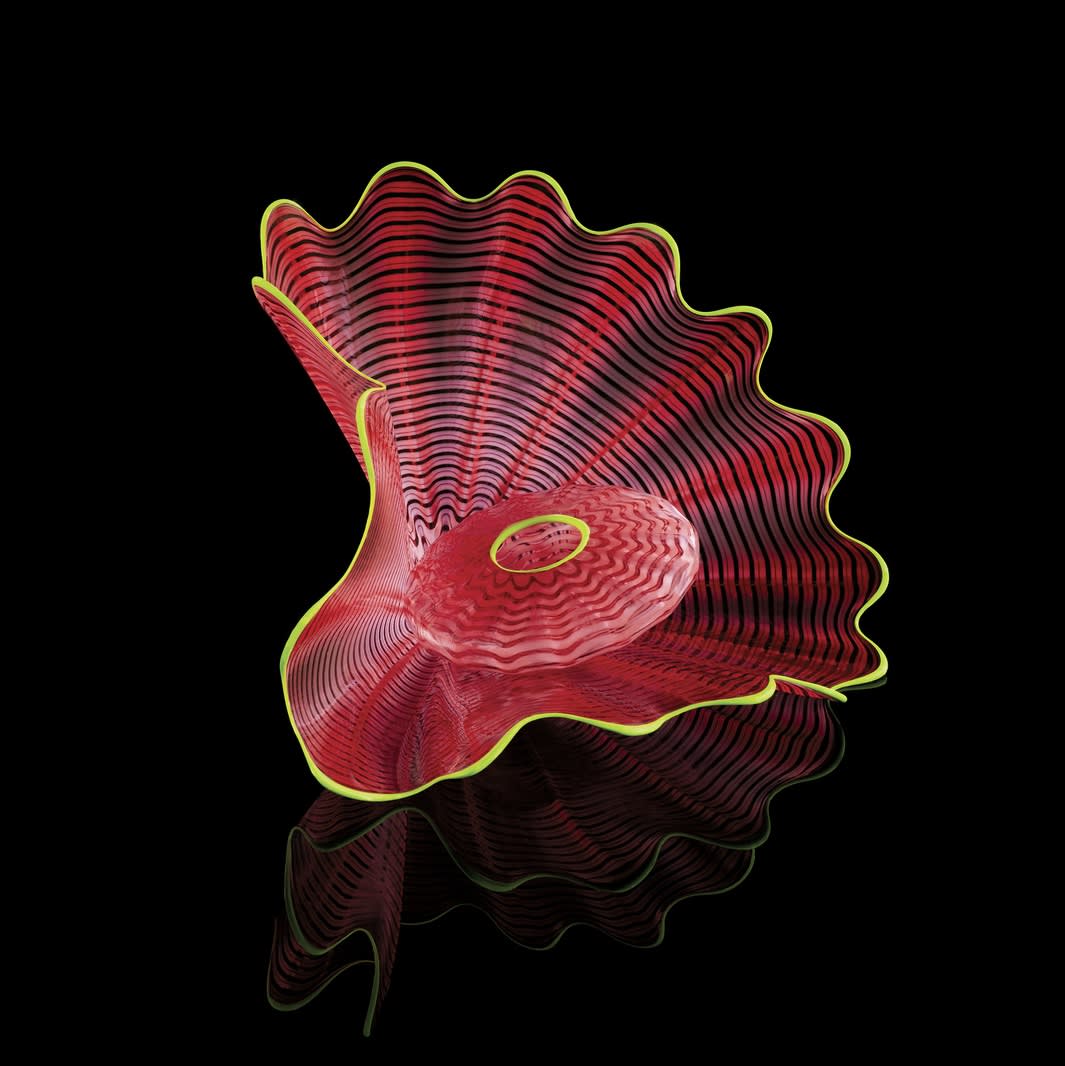 Rosetta Persian, 2021 Chihuly Studio Edition
Opening in waves of voluptuous rose red, the 2021 Rosetta Persian Studio Edition reveals the molten glass's responsiveness to gravitational pull and gestural manipulation in the blowing process. A thin red body wrap spiraling around the fan-shaped element adds to the dimensional agility of the composition, while the smaller interior element invites introspection. An earthy green lip wrap grounds and defines the tensile scalloped edges of the sculpture.
Dale Chihuly began assembling elements from within a series while developing his Baskets in the 1970s. By nesting smaller elements within larger vessels, Chihuly creates compositions that encourage viewers to look through the walls of the outer form to discover a microcosm of color and transparency. Seaforms, which evolved out of Chihuly's Basket series, continue this exploration of transparency and environment.
"The various glass vessels nestling within each other create a satisfying sense of intimacy and enclosure-they are protective but not defensive; the translucency of glass invites one to look in without feeling that one is invading a private territory." -Robert Hobbs, Dale Chihuly: Objects de Verre, 1986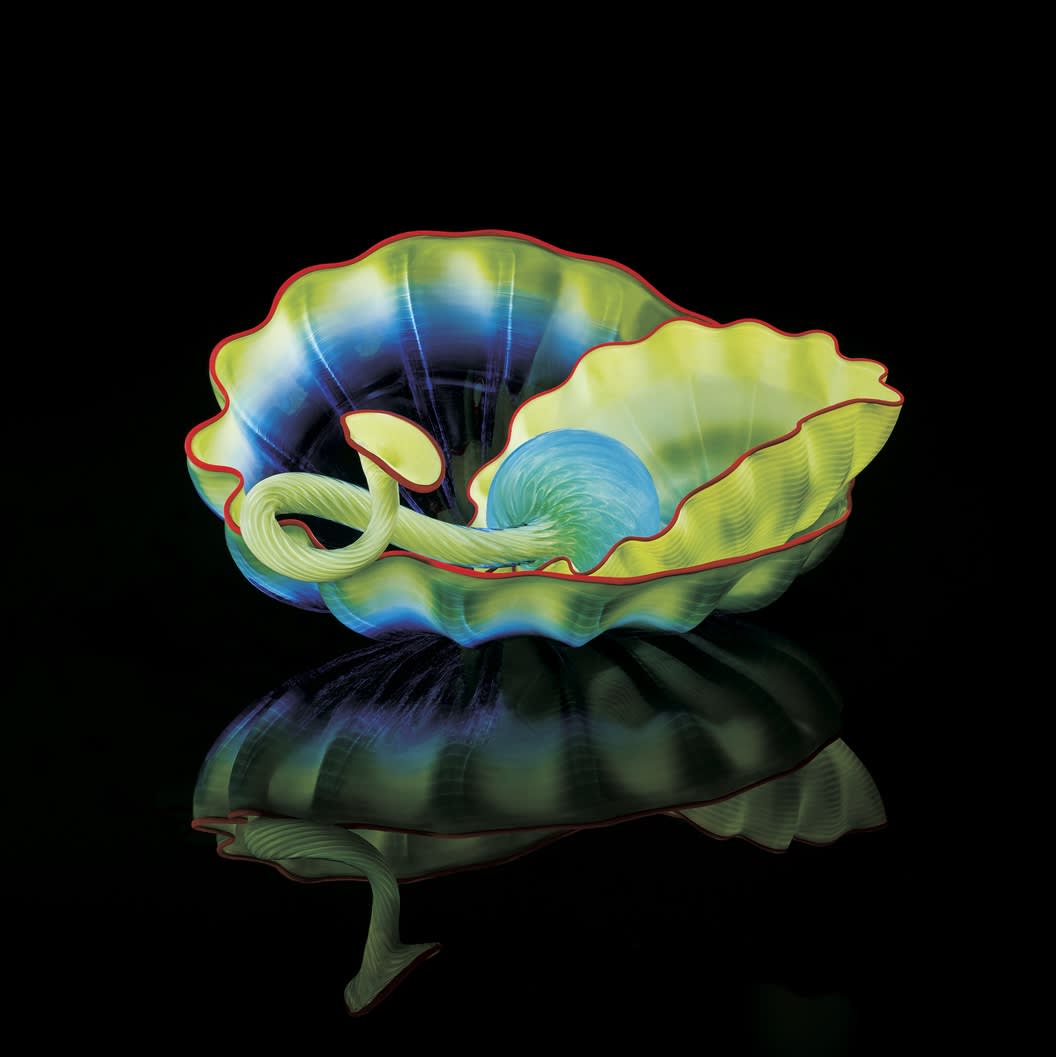 Seagrass Seaform, 2021 Chihuly Studio Edition
The first Seaform Studio Edition composed of three individual elements, Chihuly Workshop's 2021 Seagrass Seaform is a remarkable representation of Chihuly's penchant for assembling distinct forms into one unified vision. The largest element presents a transparent center that directs attention to the brilliant blue "ribs" and kelp green edges, while a smaller form in opaque chartreuse rests within. Echoing the palette of blue and green, a curlicued element winds its way from within the composition to bring balance to the juxtaposed qualities of transparency and opacity. A dramatic red lip wrap on all three elements contributes a vibrant contrast.
Please contact Momentum Gallery with any questions on this work and be sure to visit our website to find images and information on all the Chihuly work currently on display at the gallery. Feel free to inquire on any Chihuly works you may be interested in, whether or not they are currently at Momentum Gallery.