A collection of narrative and nature-inspired works are presented along with masterful turned wood vessels and blown glass installations. Two of the featured artists – Mariella Bisson and Samantha Keely Smith – create oil paintings that reference the landscape. Bisson's are far more literal representations of place including woodland areas and waterfalls of North Carolina and New York. Smith's are farther toward abstraction. While some elements in Smith's work feel atmospheric or topographical, Smith's sweeping oils are more concerned with creating an emotional space than trying to present any particular place.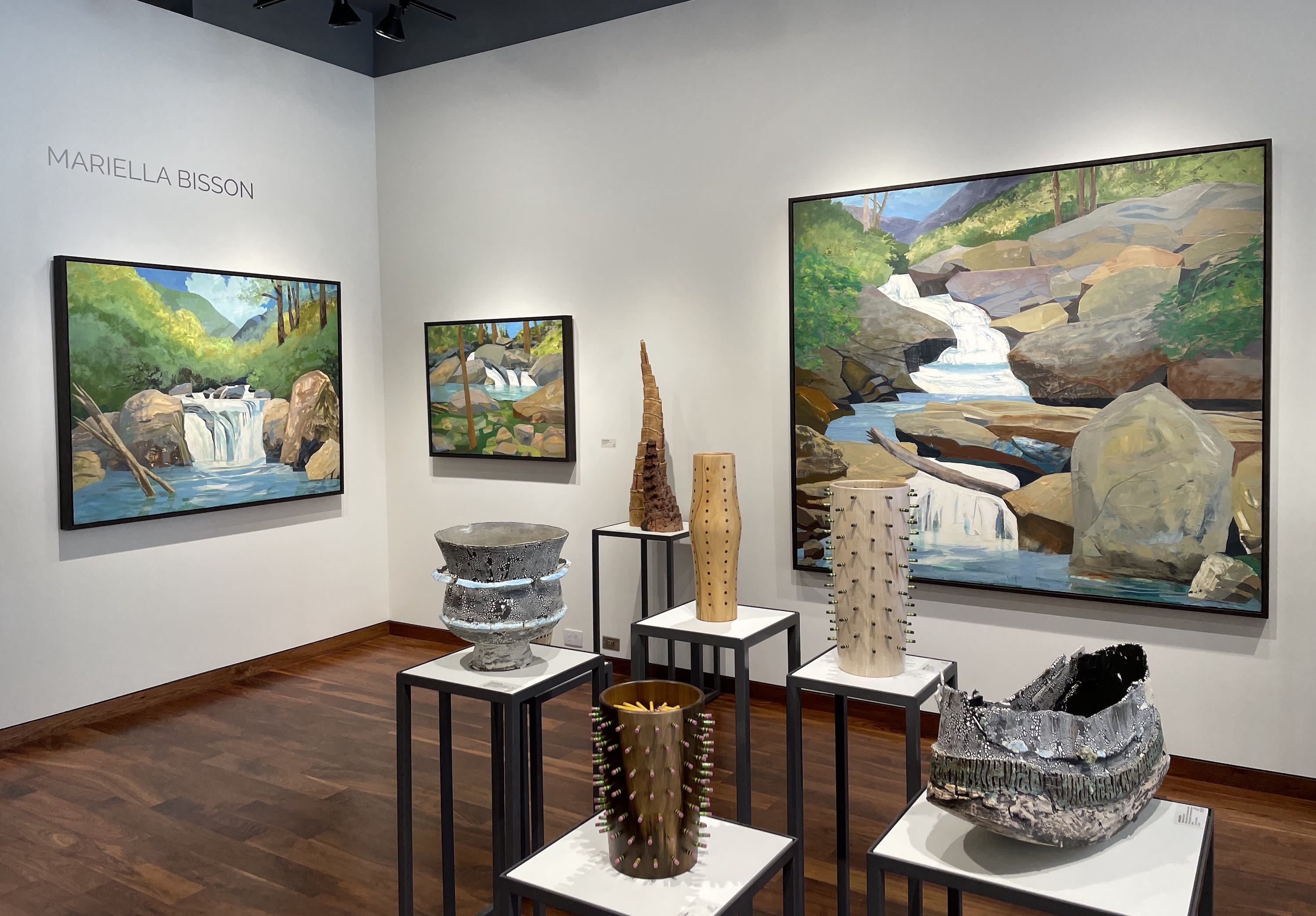 Bisson's highly textural paintings begin with a collage layer imbuing them with a sculptural quality. Geometric planes of rock, falling water, and trees colalese in strong, graphic compositions. A new book entitled Paper and Paint explores Bisson's use of paper in her work and accompanies the exhibition. Bisson's most recent work is presented around the gallery's first floor along with turned wood orbs and vessels from David Ellsworth.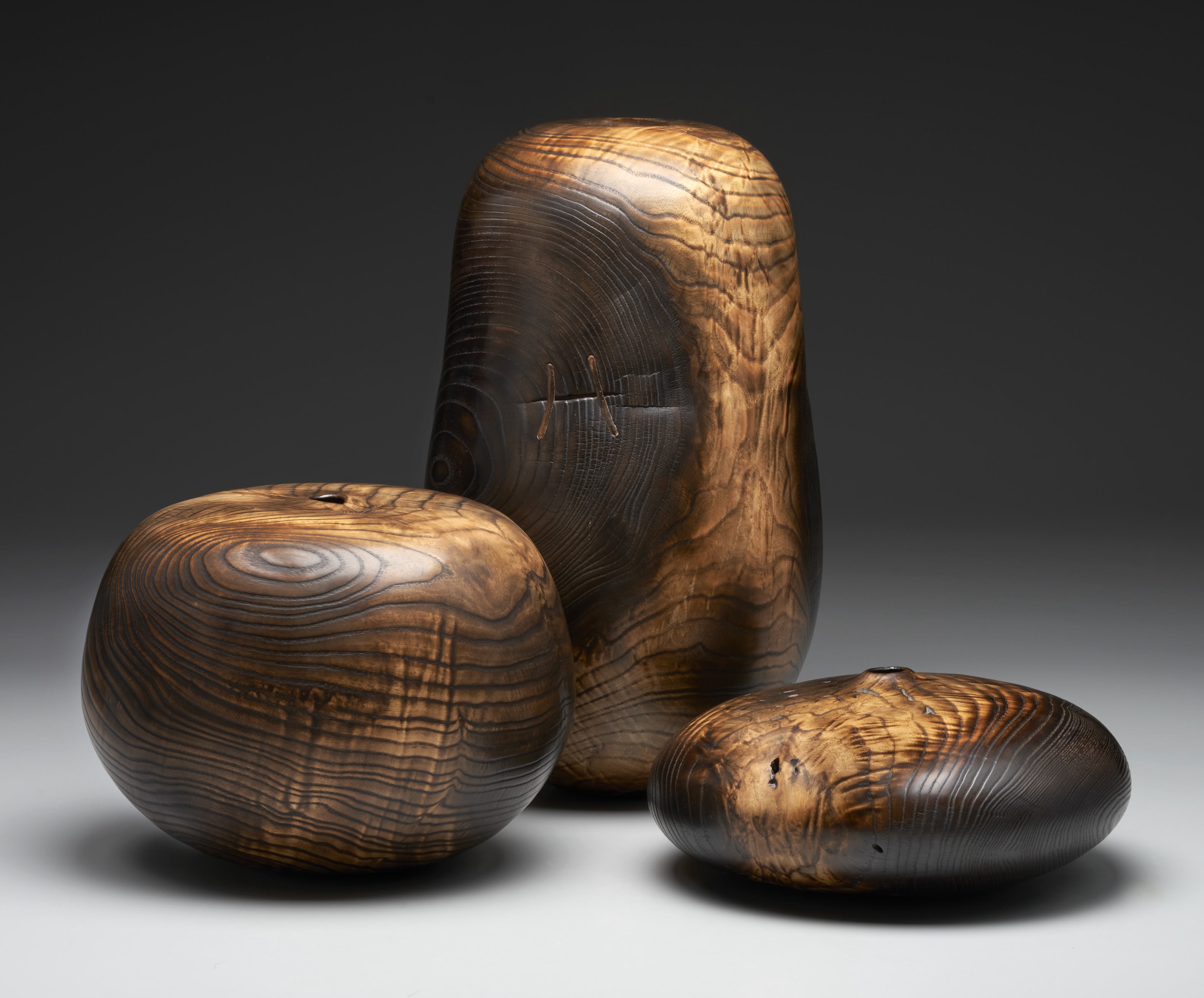 David Ellsworth is one of the world's premier wood turners. Over the past fifty years, he has achieved international recognition for his elegant hollow-formed vessels and sculptures. Ellsworth's work is included in the permanent collections of forty-five museums. His understanding of material and process, a refined sensibility of form and balance, and an innovative spirit have defined his career and helped advance wood art worldwide. The Smithsonian recently honored David Ellsworth with the Visionary Award. Momentum celebrates Ellsworth this summer with a collection of his work from several series spanning a long and illustrious career. There is a catalogue available for this exhibition.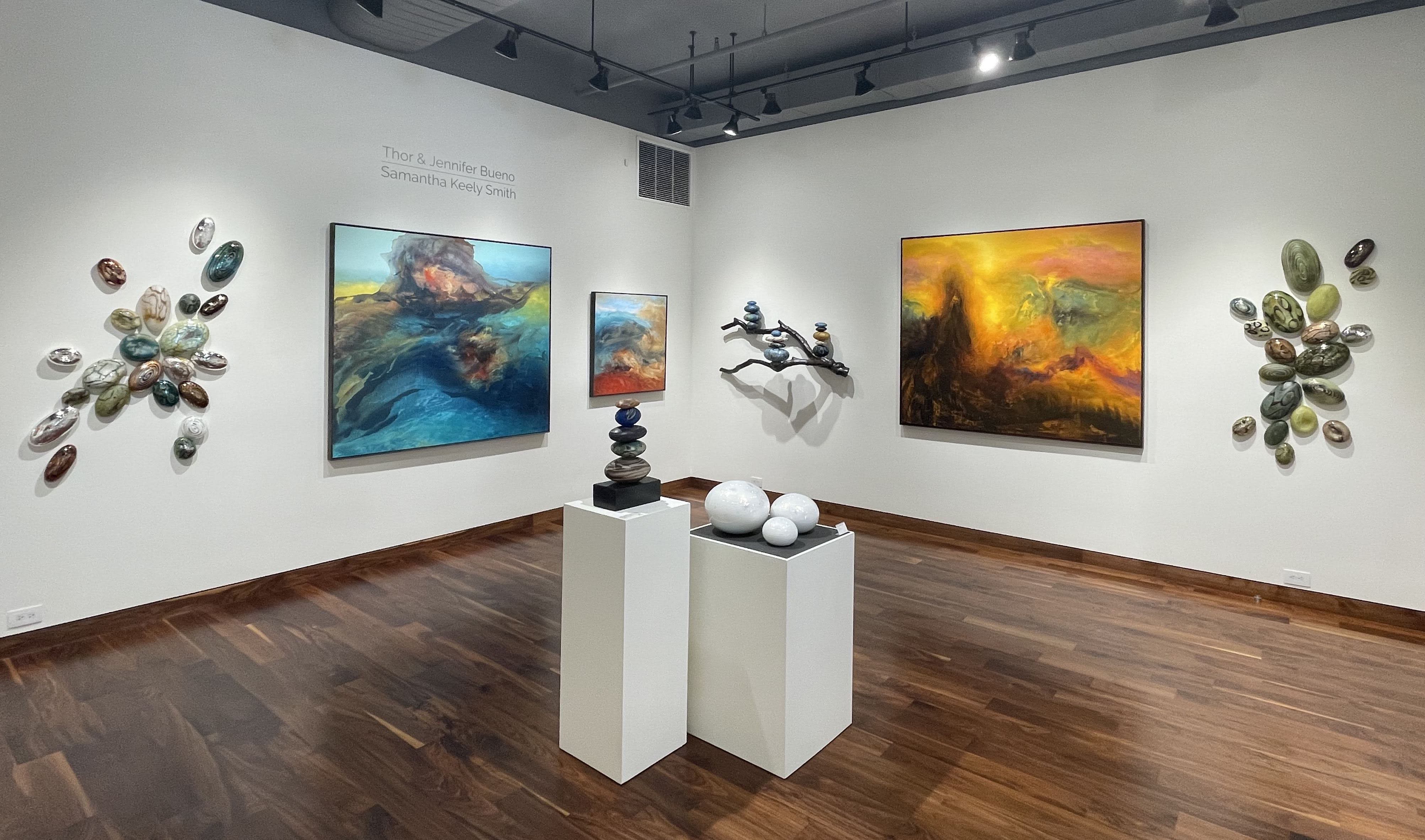 Samantha Keely Smith's paintings are featured at the back of the gallery's first floor with blown glass by husband and wife artists, Thor & Jennifer Bueno. The Buenos make dramatic wall arrangements with multiple elements that look like metallic river stones. Their latest work is inspired by wildflowers and plants including Dogwood, Hydrangea, and Jack-in-the-Pulpit. The exhibition also features a wall-mounted branch with three stacked cairns of blown glass stones.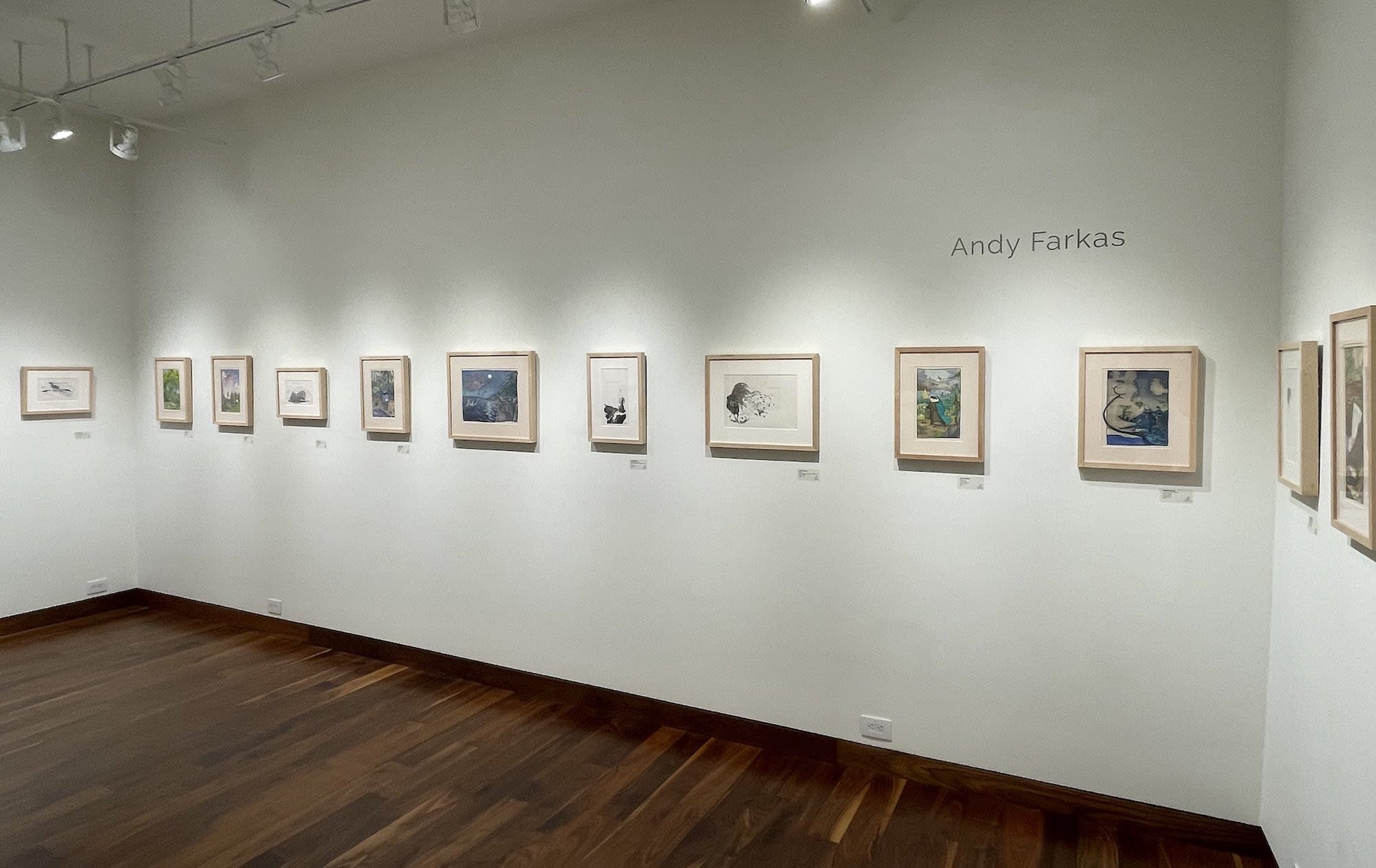 Rounding out this new collection for the summer are wood engravings and moku hanga prints by Andy Farkas. Farkas' beloved images feature personified animals and original sayings in letterpress text. Farkas' solo exhibition has a collection of several editioned works from the past decade along with the debut of two beautiful, narrative Japanese watercolor woodcuts, Shared Dream and Right Now. All of Farkas' original prints are available framed or unframed.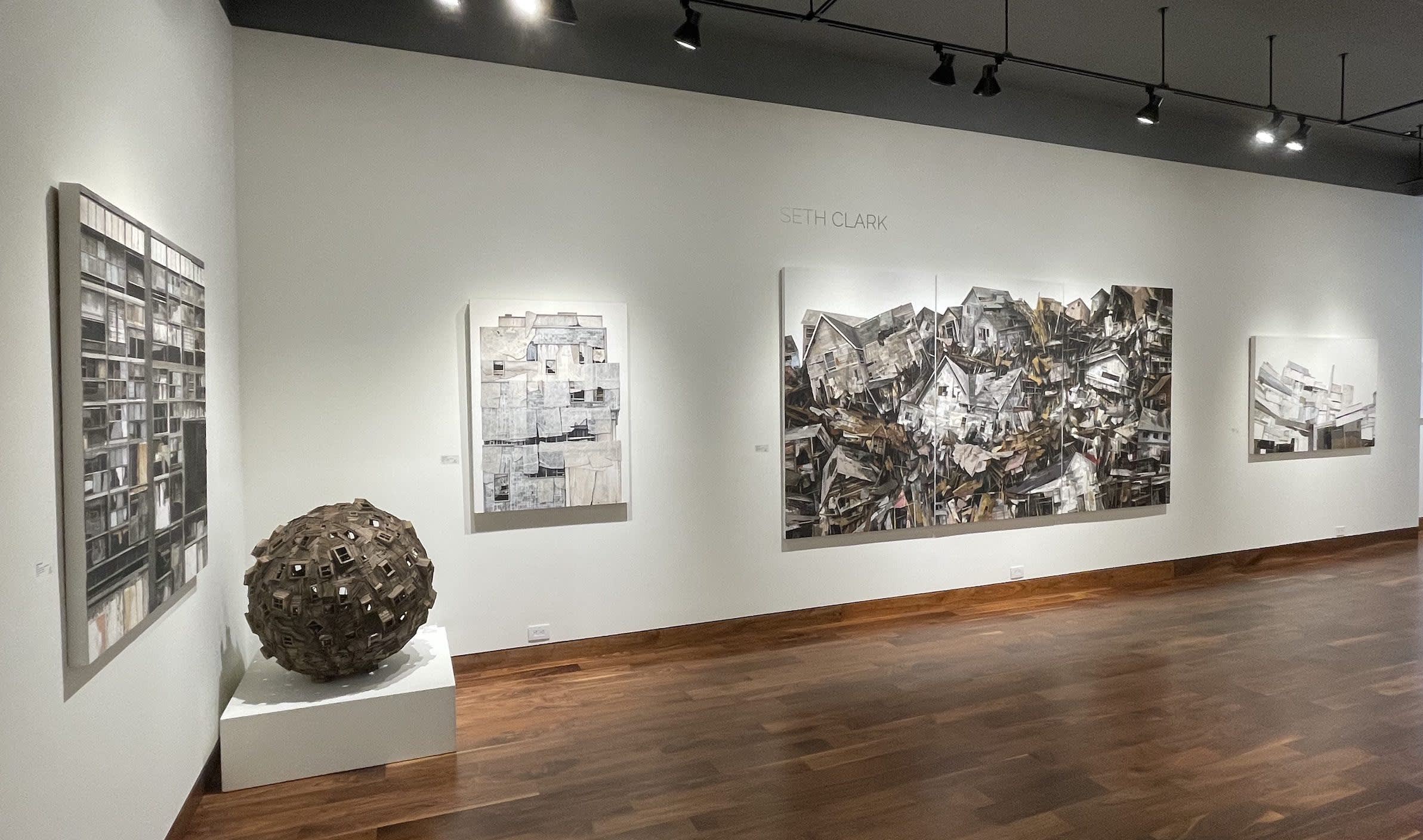 July is the final month to see Seth Clark's solo exhibition in its entirety. Clark's contemporary, mixed media works explore themes of architectural decay. Clark comments, "My work focuses on deteriorating architecture. These structures, designed to be huge forces of permanence, are continually being challenged, destroyed and forgotten. I see an inherent honesty in the face of my subject. Among all of the clutter—the shards of wood and layers of rubble—there remains a gentle resolve. As I work, I study these structures incessantly. The buildings, often on the brink of ruin, have something very energized and present trying to escape from their fragmented reality."
We look forward to sharing our space and artists' work with you. Stay tuned for announcements of additional programming we'll be doing in conjunction with these exhibitions. In the meantime, check out the following dates already scheduled.
UPCOMING EVENTS – SAVE THE DATE:
Opening Reception for Summer Exhibitions – Thursday, July 7th from 5-8 pm. Bisson, Ellsworth, Bueno and Farkas will be in attendance. Beer/wine and refreshments will be served. This event is free and open to the public.
Artist Reception for Mariella Bisson – Sunday, July 10th from Noon-2 pm. Coffee and refreshments will be served.
Opening Reception for Hoss Haley, Topography – Thursday, August 11th, 5-8 pm. The artist will be in attendance. Beer/wine and refreshments will be served. This event is free and open to the public.