A collection of oil paintings by contemporary realist John L. Cleaveland, Jr. are currently on exhibit at the Morris Museum of Art in Augusta, GA.
The View From Here
features some of the Georgia artist's most ambitious paintings to date. One such work,
The Nature of Remembrance,
measures 60 x 120 inches. It is an exquisite scene of a creekbed under a forest canopy with sunlight filtering through a s
ymphony of foliage
. As he does in many works,
Cleaveland
utilizes perspective to his advantage and demonstrates his prowess as a painter. This painting captures a lot of the things Cleaveland does very well, including recreating the powerful experience of coming across a place in naure that causes you pause. I hope people will have the opportunity to experience it in person in Augusta, GA (or perhaps later at Momentum Gallery in Asheville).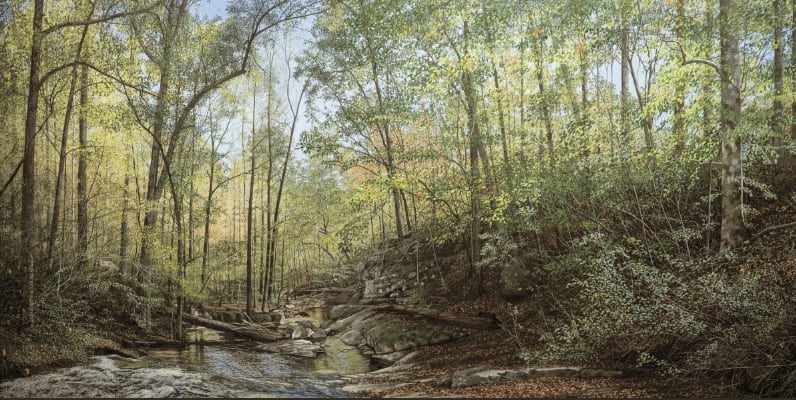 The Morris Museum states, "Highlighting the work of three consummately skilled contemporary artists, this exhibition addresses the distinctly different ways that each of them views the subject of landscape. They have this in common with landscape painters of the past: underlying their work are themes related as much to self-discovery and self-exploration as they are to the examination of topography."
The View From Here
pairs new work from Cleaveland with that of two other landscape painters Julyan Davis and Philip Juras. The exhibition continues at the Morris Museum through September 11, 2022 and is accompanied by a fully illustrated catalog.