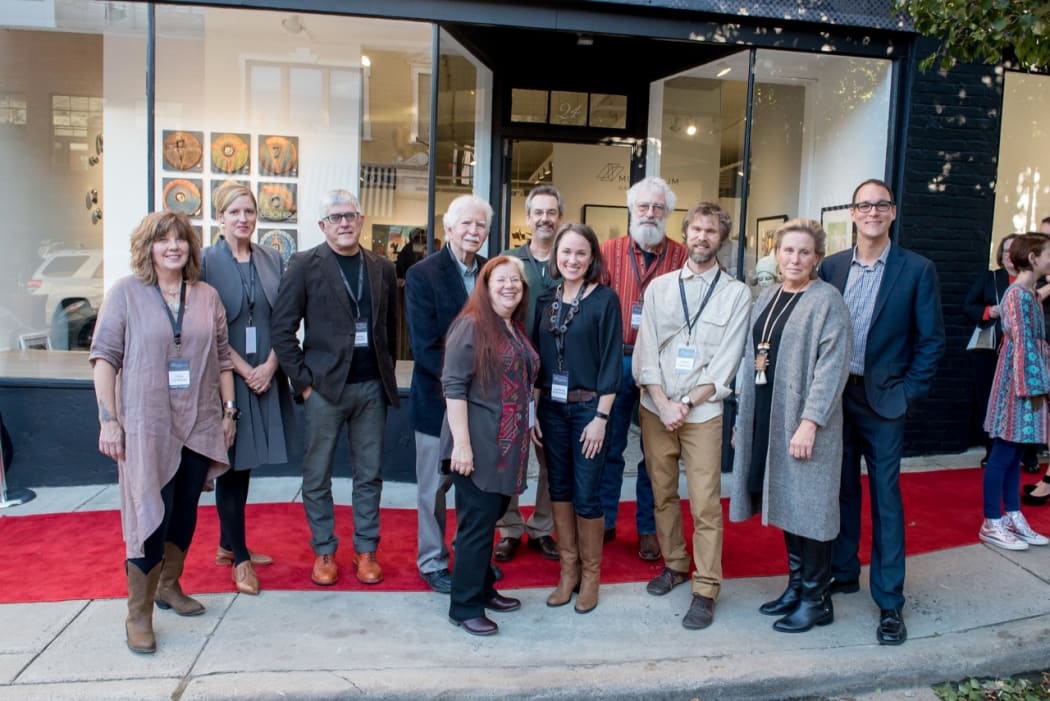 Jordan Ahlers, Owner/Director of Momentum Gallery shares his dreams for Momentum, what inspires him, and what's next for one of Asheville's most exciting galleries.
Momentum Gallery (MG): Jordan, please tell us the story behind Momentum - how did the gallery come into being?
Jordan Ahlers (JA): With 22 years of experience running incredible art galleries for other people, it was time to open a place of my own! I've been fortunate to be involved in the arts community in Asheville since 1999 and have had the privilege of working with some amazing artists. Asheville is an incredible place to engage with visual art, and I'm happy to call it home.
MG: What inspired you to open Momentum?
JA: I liked the idea of having more creative control, and bringing in the artists who I admire and who inspire me. So much of my work is about building relationships which I've developed and cultivated over the years - it's an incredible feeling to see it all come to fruition.
MG: And of course, you couldn't have picked a better city!
JA: Absolutely! I'm proud to be a fourth-generation Ashevillian, on my mother's side. I have an amazing wife, Shifra, who works by my side at Momentum and six beautiful children who were all born here in Asheville.
We're all so fortunate to be surrounded by a wealth of really talented artists in this region. That's one of Momentum's aim - to promote the area and its creativity, its home-grown talent. And you know, the incredible quality of our artists' work needs to be shared with the world! They deserve to be seen on a national and international level and through our partnership with Artsy, attendence at art fairs and regular exhibitions, we can make that happen for them.
MG: How do you choose which artists to represent at Momentum?
JA: I invite artists whose work inspires and amazes me. Many of them make work that warrants an extended look; there are things to discover upon closer investigation. Often their works strike an emotional chord or demonstrate the makers' impressive proficiency with their chosen materials. The pieces are decidedly modern with references to nature that feel well-suited to a contemporary Asheville vibe.
As I mentioned earlier, each of our 16 current artists are producing exceptional work which deserves to be seen by a wider audience. That's my role at Momentum - to take each of them to a bigger stage.
MG: Any advice or tips for someone who isn't a regular visitor to art galleries?
JA: Come on down! Galleries aren't always snooty! At Momentum at least, we're really quite down to earth-we're the people you know from the community. We're all about creating a welcoming environment for all. The gallery is a great way to experience art in a free and casual way, offering opportunities to ask questions about process and materials, as well the influences of the artists and the importance of their works.
Momentum Gallery has something for everyone. We carry unique works that are museum quality pieces for the discerning collector and we are also passionate about cultivating new art enthusiasts.

People often ask me what art to buy as the best investment. I always say: "buy the work you love."
MG: Are there any trends in the art world you're seeing right now?
JA: Yes. There's a real trend towards placing art in public settings - known as 'creative placemaking*'. Several of Momentum's artists make, in addition to works placed in residential settings, unique works for public settings (hospitality, institutions, corporate, museums, outdoors, etc.) of significant or even monumental scale. Occasionally these types of public acquisitions involve an artist creating something particular to a place. Taking into consideration various criteria, these talented artists design and create dramatic, site-specific works for each opportunity. Not merely complementing the architecture or landscape, which is often also stunning, these works usually become the focal points of the spaces they occupy.
I feel there's a real power to being in the presence of well-executed work that's larger than you. These pieces provide soul to a space, sparking conversation, stimulating those that are in its presence. Momentum is working with art consultants to facilitate opportunities for our artists' work to engage a larger audience through public and corporate placement.


MG: What's next for Momentum Gallery?
JA: Momentum is looking to build community through partnerships with socially responsible organizations, arts-related and environmental non-profits etc. We already have plans in place to host several functions utilizing the gallery as an upscale location for networking and fundraising events.


Momentum Gallery, located in downtown Asheville, offers a contemporary and modern program with an emphasis on emerging and mid-career artists. Occupying approximately 4000 square feet in an easily accessible, street-level space, the gallery's mission is to provide compelling, museum-quality art to our clients.
Visit us at:
Momentum Gallery
24 N Lexington Avenue
Asheville, NC 28801
Monday - Saturday 10am - 6pm
Sunday 12 - 5pm
Inquiries, please call or email:
(828) 505-8550