TWO MULTIMEDIA, NATURE-THEMED EXHIBITIONS
OPENING at MOMENTUM GALLERY on AUGUST 30th
On Thursday, August 30th, from 5-8pm, Momentum Gallery invites you to an Opening Reception for the group exhibition, Transformation: Earth, Water & Wood along with a collection of new paintings and textile works by Samantha Bates. We are so pleased to be showing such innovative work at our downtown Asheville art gallery! The reception takes place at the gallery's 24 N Lexington Avenue location and is free and open to the public. All are welcome. These exhibitions continue through October 31st.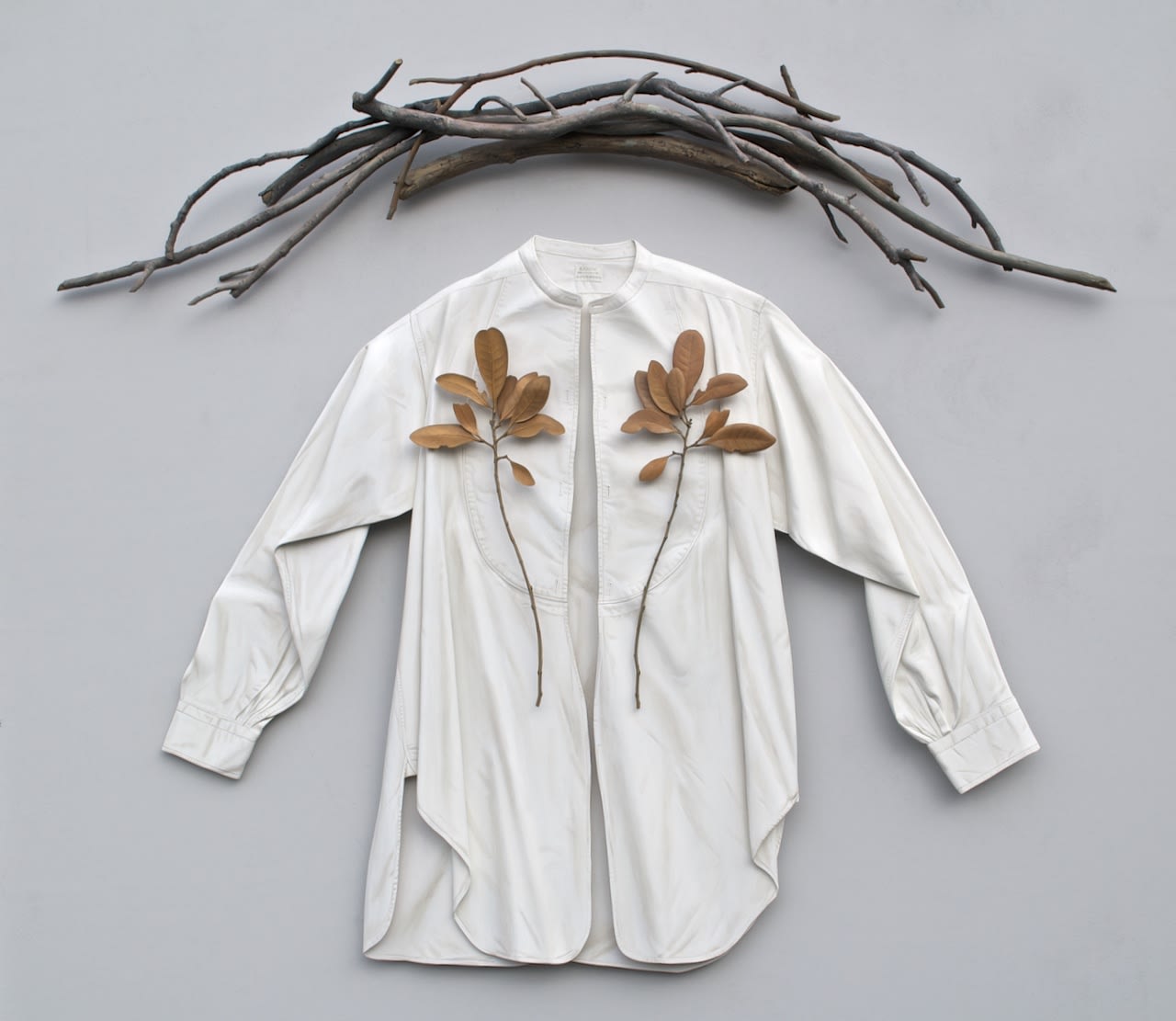 Ron Isaacs, Arrow,acrylic on birch plywood construction, 42-1/2 x 50-1/2 x 4-3/4 inches.
The group exhibition, Transformation: Earth, Water & Wood features recent work by five Momentum artist partners: Mariella Bisson, oil painting with collage; David Ellsworth, wood; Vicki Grant, porcelain and mixed media; Ron Isaacs, trompe l'oeil painting on wood; and Ron Layport, wood. New York painter Mariella Bisson turns her attention to our regional waterfalls, depicting dramatic scenes of stone, water, and woods in her signature style. Bisson deftly delineates the sculptural planes of her subjects and often selects scenes that represent metaphors for adaptation and change. In ceramist Vicki Grant's new series of Botanical wall tiles, the NC artist explores rich texture through deep carving and beaded embellishments inspired by tree bark. Grant's latest free-standing totemic sculptures are also featured. Trompe l'oeil master Ron Isaacs refers to his work as being "exactly halfway between sculpture and painting." His birch plywood constructions, painted with acrylic, often portray the illusion of shirts or dresses (representing the figure) in the midst of a state of metamorphosis into foliage and branches.
Mariella Bisson, Summer Falls Panorama, oil and mixed media on linen, 34 x 74 inches.
Transformation also proudly presents work by two renowned American wood artists, David Ellsworth and Ron Layport. Ellsworth, who recently relocated to the Asheville-area, is a preeminent wood turner with work in 36 museum collections around the world, including the Metropolitan Museum of Art in New York, the Philadelphia Museum of Art, and the Museum of Fine Arts Boston. Ellsworth's aesthetic embraces nature's irregularities and might be compared to the Japanese principle, wabi-sabi, where anomalies that arise through the process of making add uniqueness and elegance to the work. Ellsworth's turned work is done on the lathe while the wood is still green, allowing for unusual things to happen as the turned forms cure and dry. Precisely rounded vessels may become oblong and asymmetrical, or even split open -Ellsworth welcomes these effects as part of his creative practice. Some might find it curious that the masterful woodturner's latest series isn't turned at all. For his Ascension series, Ellsworth cuts blocks of burled wood into concentric rings, then telescopes them out into dramatic, towering spires. Interestingly, Ron Layport first learned how to turn wood in a class led by David Ellsworth. Over the past 30 years, Layport has established a place among the top wood artists in the world. Layport uses negative space as a design element, carving intricate patterns of wildlife and habitat into the surfaces of his turned vessels. The results are complex relief carvings that maintain the integrity of the original form despite having been completely transformed.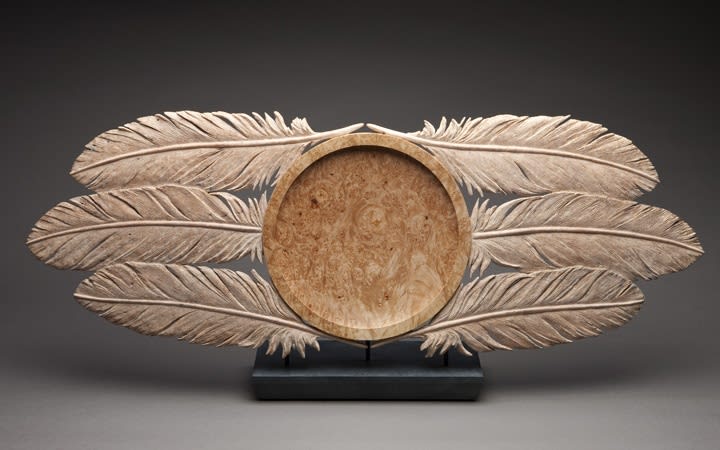 Ron Layport, Captured by Feathers, maple burl, steel, pigment, 12-1/2 x 29-1/2 x 4-1/4 inches.
Momentum Gallery is thrilled to debut a collection of new mixed media paintings and textile works by Samantha Bates. Bates' contemporary landscapes are inspired by her time in wilderness areas, largely in her home state of Washington. Through meticulous mark making and patterning, thousands of dashes and dots emerge into imagery of forests and water on the surface of Bates' unstretched and primed canvases. The artist's wall-mounted textile works are sculptural constructions with imagery of sky or trees developing out of sections of expressive marks she makes by 'drawing' with a sewing machine, embroidering, and weaving. Both exhibitions continue through October 31st.
Samantha Bates, Reach Toward the Pacific, acrylic, colored pencil, artist pen on unstretched and primed canvas, 52-1/2 x 48 inches.