Recent oil and mixed media works depicting scenic landscapes from Mariella Bisson have just arrived at Momentum Gallery! We are to thrilled work with Mariella and present her newest watercolors, oils on linen, and other collage based works to you! Mariella recently said, "oil painting is a classic time-honored technique requiring patience, color balancing, and the matching of my palette to the specific landscape I have studied. I transform my direct experience into art in order to bring the beauty and power of nature to my audience and collectors." Bisson's will be one of five featured artists in our upcoming group exhibition, Transformation: Earth, Water & Wood, opening Thursday, August 30th. Some of the work is available for pre-sale now.
Mariella Bisson, Summer Falls Panorama, Oil and mixed media on linen, 34 x 74 inches
Mariella Bisson visited North Carolina earlier this year on an expedition of inspiration for these paintings. She has spent time soaking up energy outdoors and actively engaged in the studio to complete new, dramatic works for our upcoming show. Of her work showing at Momentum, Mariella shared, "Asheville is evolving into a major destination for fine arts, for artists and collectors. This confluence of craft and art is bringing about a renaissance, creating a new vortex of discussion, debate and artistic achievement. I believe in the importance of art-making based in skill and thoughtful consideration. Asheville is surrounded by magnificent landscape destinations, superb hiking trails and thrilling waterfalls. I am very happy to be finding such a receptive audience for my paintings in Asheville." Visit the art gallery in downtown Asheville for a preview of Bisson's recent works on paper and her oil and mixed media paintings. All of Bisson's available work can be seen here:
https://momentumgallery.com/artists/34-mariella-bisson/works/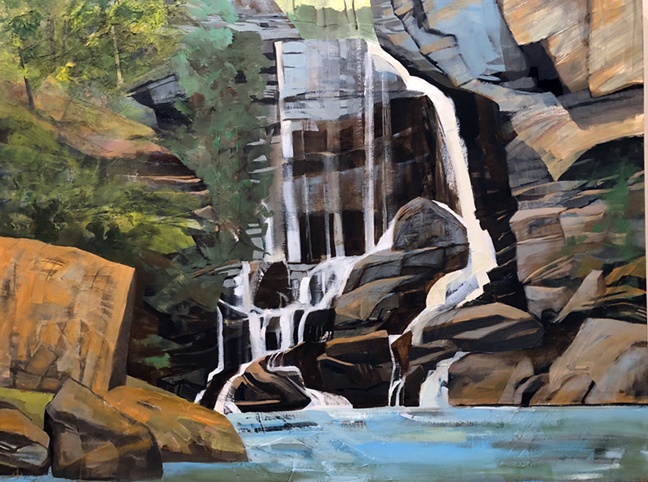 Mariella Bisson, Big Bradley Falls, Oil and mixed media on linen, 38 x 50 inches
Mariella deftly delineates the sculptural, geometric planes of her subjects. She has a strong sense for composition, and her take on the landscape is refreshing and contemporary. Stylized and highly textural, Bisson's works convey a thoughtful sensibility clearly developed from time the artist has spent immersed in nature. Her scenes of stone, water, and woods in her signature style has been captivating a new audience in North Carolina since Momentum opened last October. Of note, Mariella Bisson is a two time recipient of the Pollock-Krasner grant and was awarded a New York Foundation for the Arts fellowship in painting.
Mariella Bisson,You Can't Step into the Same River Twice, Mixed media on paper, 12 x 16 inches
Momentum Gallery is incredibly honored to represent Mariella Bisson and are pleased to offer you a preview of her newest creations. Come by the gallery at 24 N Lexington Avenue!