Ron Layport, Embrace, Turned, carved, and pigmented Maple root burl, 14 x 18-1/2 x 1-1/2 inches
The expertly detailed wood sculptures of Ron Layport are not assemblages - each is sculpted from a single piece of wood. Working directly from sustainably-sourced, fresh cut local hardwoods (trees felled as a result of storm damage or otherwise destined for landfill, firewood, or the chipper), Ron first turns the logs on the lathe, then sculpts and finishes the pieces by hand over a period of months. What may have begun as an eighty-pound cross-section of tree is reduced to a beautifully finessed vessel weighing less than two pounds by the time it goes to the pedestal.
Layport coomments: "Working with wooden bowl and vessel forms provides a universal familiarity or jumping-off point from which I am able to express more complex themes and images. The instinct to make objects that address our connection to Earth, and to the creatures with whom we share this planet, is as timely today as it is timeless. Animal effigy figures have inspired utilitarian and ceremonial objects since the earliest forms of human expression. I'm simply bringing my own voice to this ongoing dialog."
Momentum Gallery received six works from Layport for our upcoming nature-themed exhibition, Transformation: Earth, Water and Wood. We are thrilled to share his work with our collectors!
Ron Layport, Of Waves and Fishes, Turned, sculpted and pigmented Sycamore, 15 x 8-1/4 inches
Ron also offered the following regarding his work for the show: "The work, Of Waves And Fishes addresses the transformation of our waterways from healthy to lost—and their reclamation through the last half-century of hard-fought battles over regulation of industrial waste."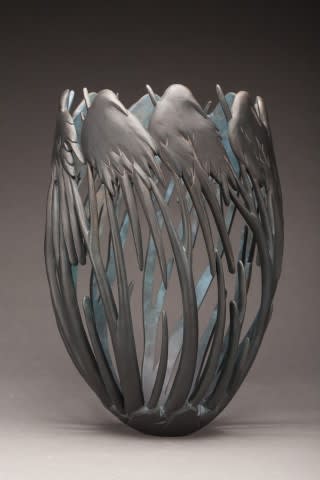 Ron Layport, Dream Suite, Turned, sculpted, and pigmented Ash, 13-1/4 x 9-1/2 inches
"Dream Suite speaks to the rush of excitement and inspiration in receiving the call from Jordan at Momentum. It signals my return to a vital bricks and mortar gallery in a thriving art-minded community. I've always admired the Asheville gallery scene and the artists who are so fortunate to show there. I'm grateful for the opportunity to be a part of it," Ron said in a recent interview.