DREW GALLOWAY
October 20, 1964 – September 18, 2018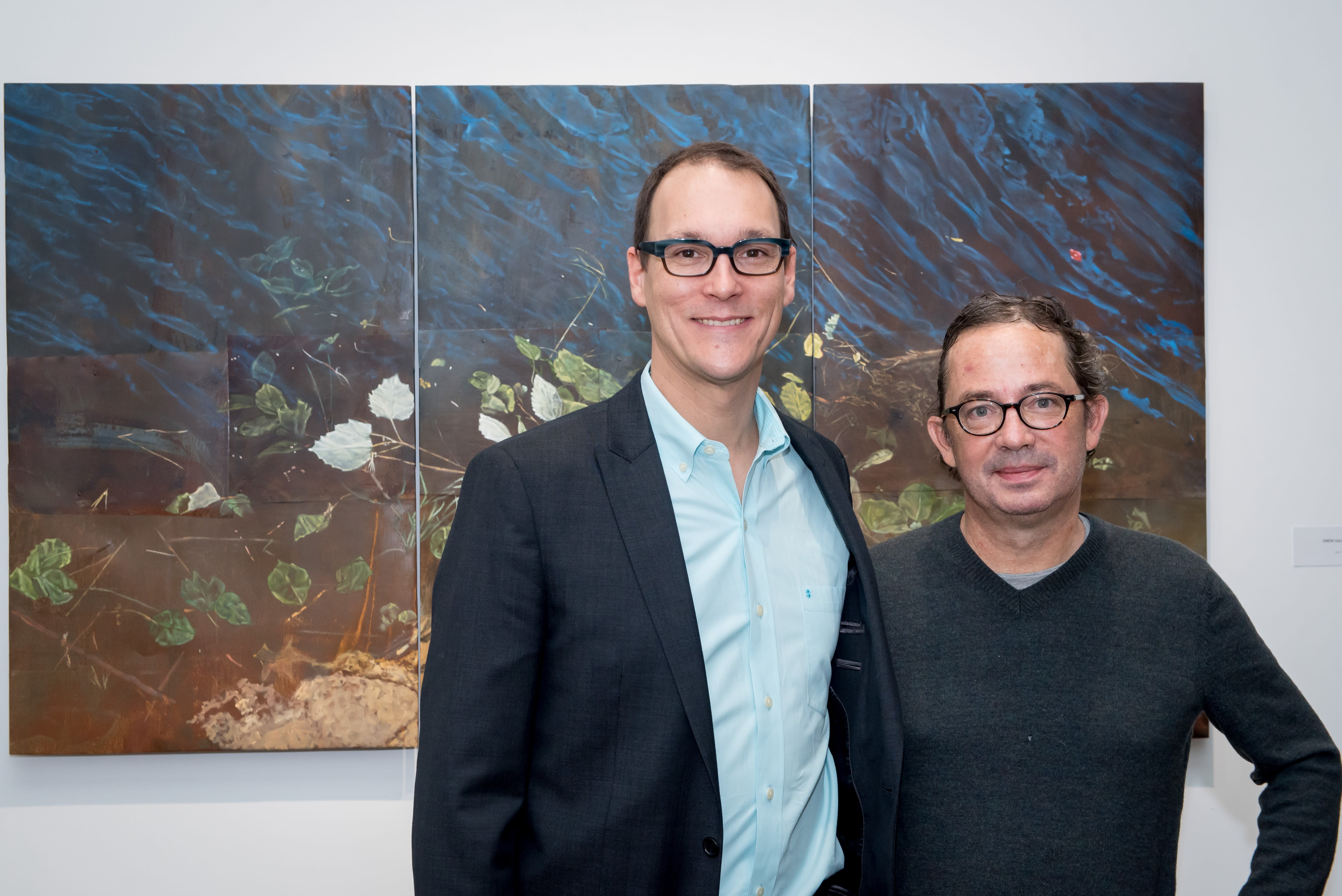 Jordan Ahlers with Drew Galloway, October 20, 2017 in front of Drew's painting, Still Life
We are mourning the loss of our dear friend, Andrew Kirklyn Galloway. It was an honor to represent Drew Galloway, open Momentum Gallery with him, have him join us for our debut event, and celebrate his birthday with him in Asheville last October. It was our privilege to present Drew's work in Miami this past February at the international fair Art Wynwood and host his final exhibition, a pairing in the spring with wood sculptor, Christian Burchard. Drew was one of the first artists to join Momentum; he was excited to be a part of this new venture, and more recently about the new space we're upfitting on Broadway.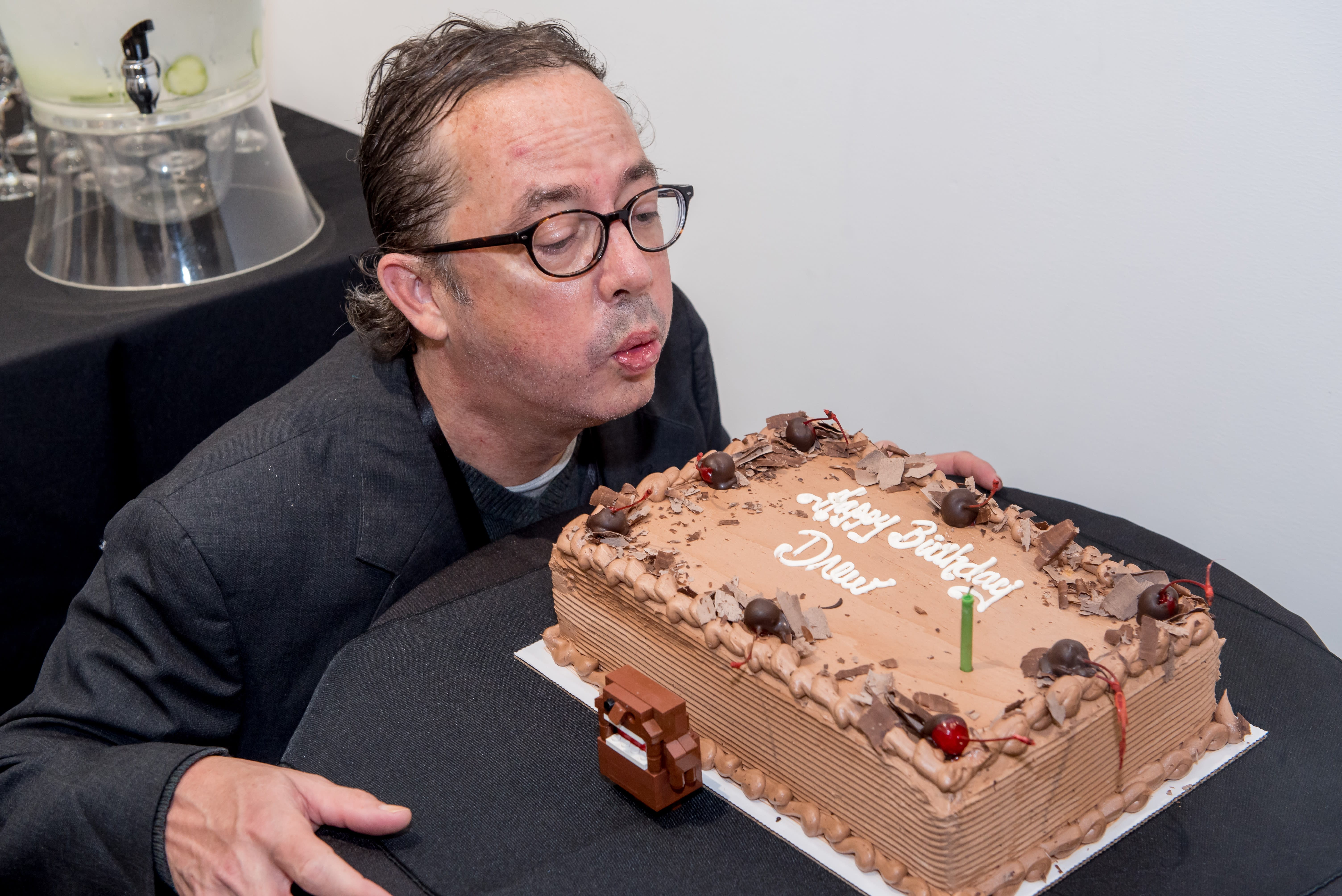 Celebrating Drew Galloway's last birthday at Momentum Gallery, October 20, 2017
We had a number of conversations over the years about painting (his as well as other artists' work), the business of art, and life in general. Drew appreciated connecting on a personal level. He always showed genuine interest and had thoughtful inquiries about my kids and our family's traditions. He was an intellectual who didn't lose sight of compassion and empathy. He was a special soul.
Drew was intrigued by nature and music. Although he was already a gifted painter, he had the gumption to immerse himself in the rich history of Giverny, where Monet found inspritation. He spent months learning, living, and painting in the same town as the impressionist. He absorbed the scenery of France and imbued it in his creations.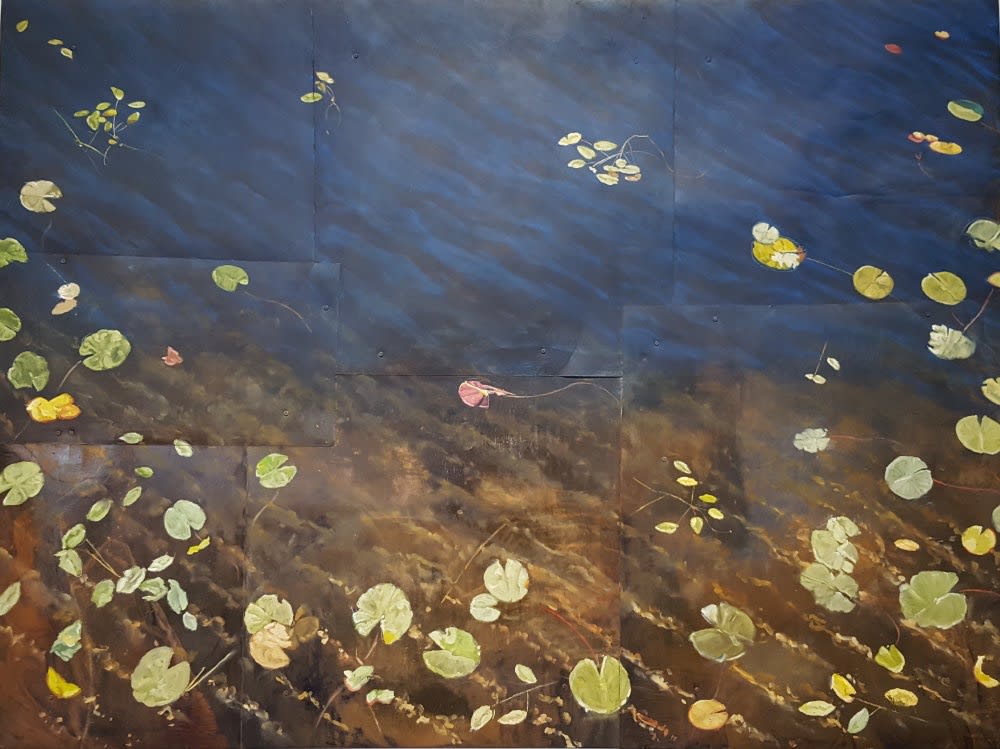 Drew Galloway, Across the Pond, Oil on metal, 36 x 48 inches
Drew earned a BFA from Atlanta College of Art. He held a lifelong fascination with the overlooked and often underappreciated charm he found in everyday places and things. "Championing ordinary beauty that we get immune to as adults," he once said. Drew's practice of late focused on landscapes rendered in oil on found sheets of metal. He'd incorporate the natural patina of the metal (rust, oxidation, etc.) and, in some cases, only a third or half of the painting's surface was covered in paint at all! Intricately detailed renderings, Drew cropped in on reflections of trees or sky on the surface of water to the extent that they felt like abstract compositions, despite essentially being photo-realistic. Still, Drew said, "It's not about being bogged down by details, but capturing feeling, memory, and the essence of a place or a person."
He will be missed.
Drew Galloway, September Song, Oil on tin, 36 x 48 inches