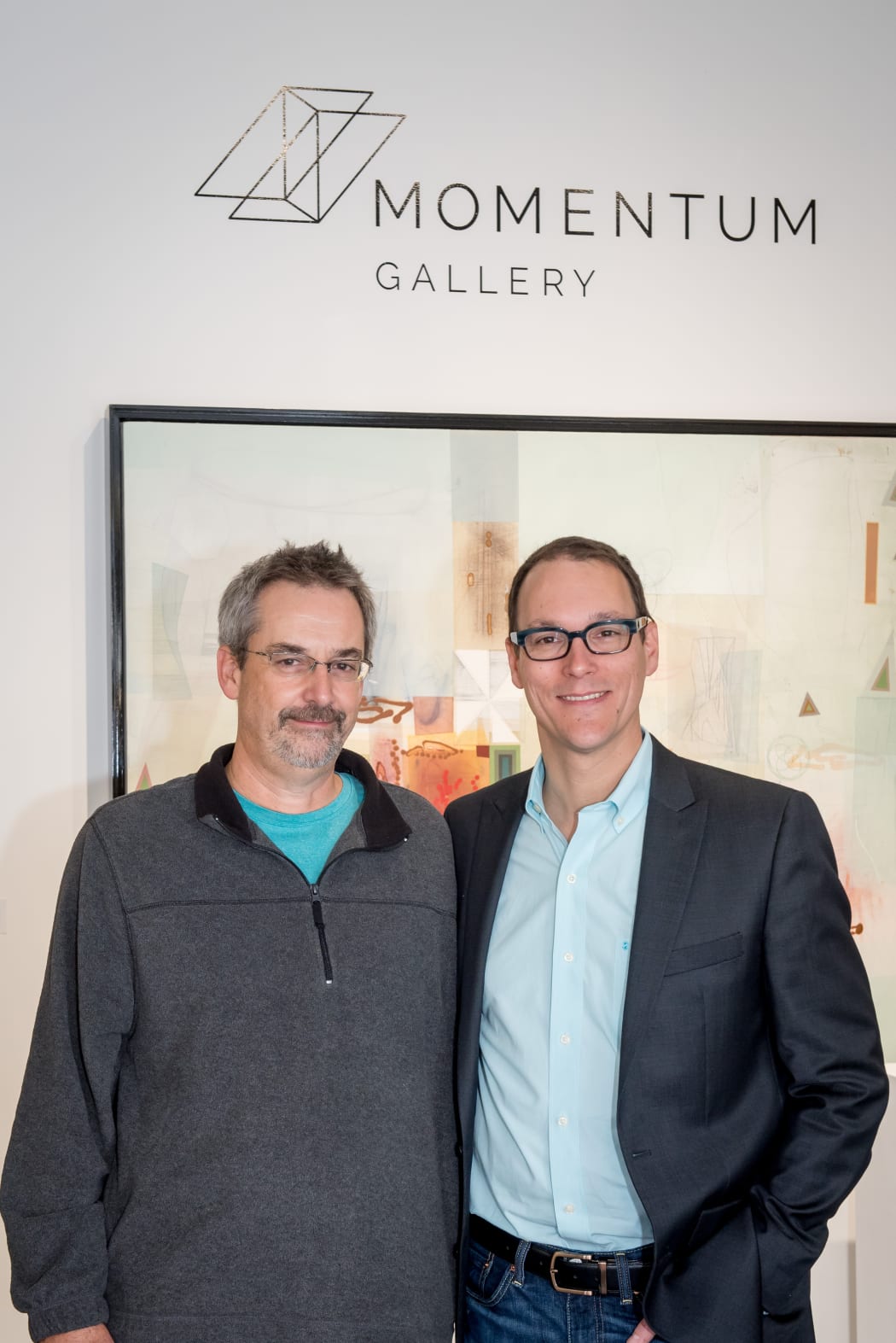 Momentum Gallery (MG) Michael, thank you so much for taking the time out of your schedule to join us today. We appreciate it! Michael, tell us. What led you to becoming an artist?

Michael Barringer (MB) Well, my mom is an avid reader and my dad was a true nature lover - I think those two influences definitely show up in how and why I do my work.
In fact, I come from a line of artisans; my maternal grandfather was a quarryman who made his own tools and took a huge interest in crafting. My paternal grandfather was a blacksmith and a railway man who helped to build steam engines. He made things out of wrought iron, he painted watercolours, he made his own wine, grew vegetables. In the midst of this creative gene pool, I seem to have inherited some of that.
Artistically, literature was my first love. I enjoyed thinking creatively and drawing and so I completed a graduate level painting and drawing program, after my undergraduate degree in English. It seems I found my calling and here I am!

MG Your pieces incorporate themes such as spirituality, history and religion. How do you incorporate those themes within your work? What form does it take usually?

MB I think it goes back to the original poetic impulse we all have - that drive to make things. Basic impulses haven't actually changed that much. We're all searching for something. If you go back through history and study behaviour, people have always had that impulse. In fact, in the Blombos Caves, off the Southern Cape coastline in South Africa, archaeologists have discovered artifacts one hundred thousand years old - seashells, beads, string and ground pigments. It's really like an ancient paint factory.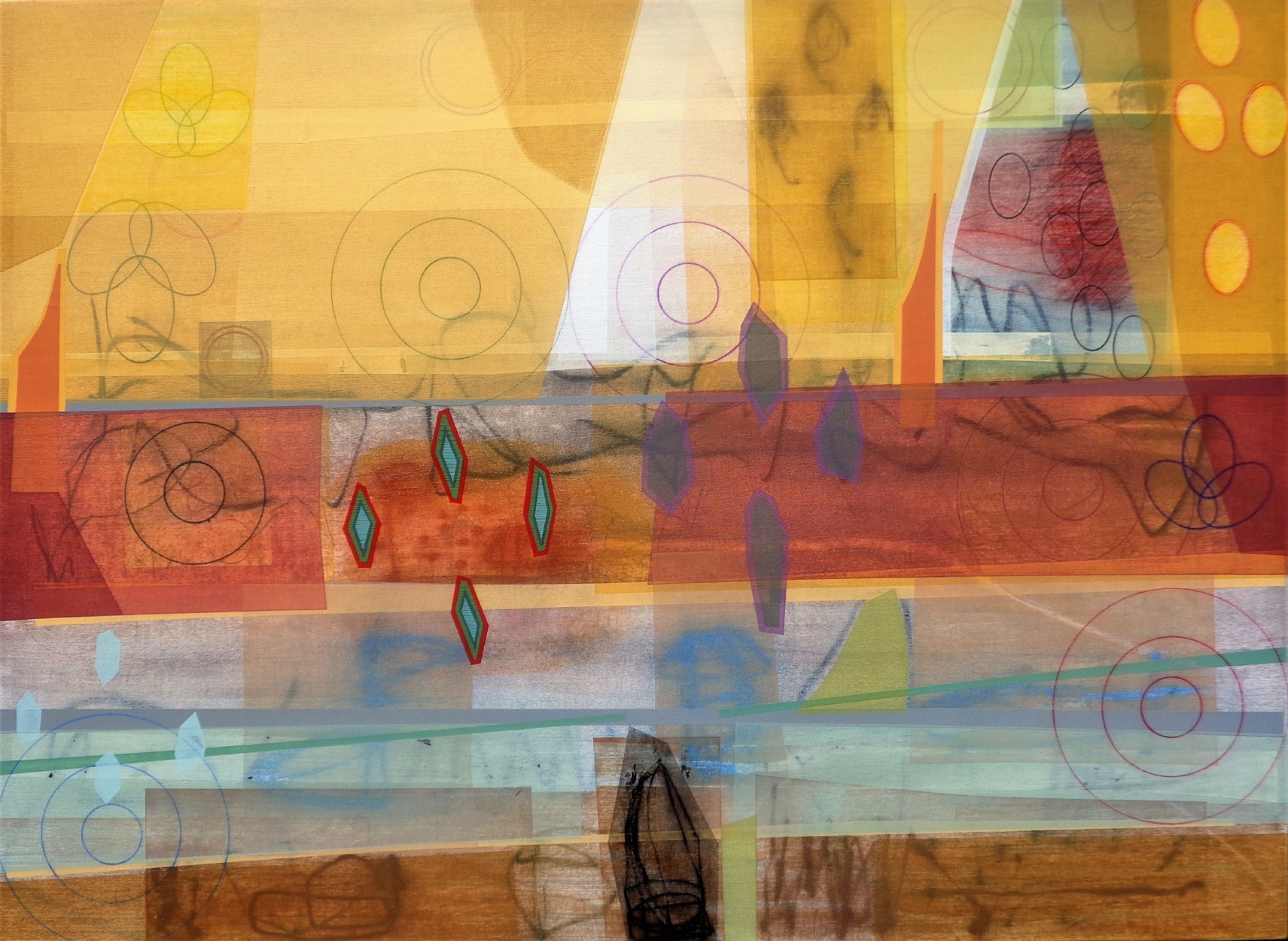 Bloomstone (Orchestral Palimpsest), mixed media on panel, 32 x 41 inches

MG You talk about your work being layered, of accumulation. What prompted that way of working?
MB If you look at TS Eliot's work, Four Quartets, it talks of an evolving spiritual nature, where things mix together and then go back again. I like that idea of new cultures being born, then changing to create a new layer, one after another, and snippets remain. In the physicality of layering - form follows the function. The function is to suggest our accumulated history.
MG Poets are a big influence on your work. Who are you inspired by?

MB TS Eliot again and Wallace Stevens from the early 20th century. He was a champion of the human imagination - he felt that it would replace religion in a way, that we would be generating everything from within and would live by that instinct.
Another inspiration is Walt Whitman - he tends to get back to primal urges and breaks through cultural differences. He shows that we're all similar, that we all have these animal instincts. He encourages us to get back with nature and be part of it. It's very interesting.
Kenneth Rexroth was part of the San Francisco Renaissance, a founding father of the Beat Generation. He took all this knowledge, systems, arts, mixes them all together and writes poems about the subjects in a really well-informed way. His writing is really rounded with direct, stripped-down language. He's always around somewhere for me.

MG Similarly, quilting is an inspiration. What can we learn from the original quilters throughout history?

MB Southern USA - I grew up with folks who made these real traditional-looking quilts. The designs were predictable and followed a pattern. Then I discovered the quilts made by the ladies of Gee's Bend, a small, remote, black community in Alabama. For over 120 years, these African American ladies have been creating these spectacular quilts which are so modern - like something from Matisse for example. None of these ladies would have ever been exposed to Modernism but these quilts are so bold and minimal. When you see them for the first time, it's shocking. There is no explanation as to how they look so contemporary. It comes from within; a natural design sense. Their exhibition has toured the US - I had the good fortune to see them in Atlanta. Quilting pulls together old items with their own history and creates a new, current thing. That's interesting to me.
Blombos Cave (Quilt), mixed media on paper, 30 x 22 inches

MG Your pieces range in terms of budget. Was that a conscious decision to hit different price points?

MB My enjoyment comes from working with different sizes and different material. When I'm working on paper, it's more like a diary in a way. They're almost studies for the larger pieces. When you price, you're using parameters, of course, as you need a benchmark.

MG Can you tell us about your working day? How do you balance family life with that of an artist?

MB That's always the trick! It's getting a little easier; my oldest child is a senior now in high school, then come the twins who are 14. They're a bit more self-sufficient and don't need so much day to day care. I try to keep regular hours and not work at night - that's family time.
You know my family are great at giving me feedback! They're honest and direct. That opens up possibilities. My wife Mindy is a artist too, a graphic artist. She is a good sounding board when I need it.

MG Has there been a stand-out moment for you, so far, in your career? What have you been most proud of?

MB I enjoy submitting work to the large survey shows. Responding to a call for artists, and being judged blind by different curators, then being accepted is a really good feeling.

MG What inspires you?

MB I tend to have the feeling that any finished piece isn't quite what I wanted. I'm always coming back at it. I think artists always try to improve upon what came before, so that it's more in line with your imagination. If you lose that, perhaps it's time to rethink being a maker of things. That's the drive of an artist. To become a little prouder each time.

MG Do you have any advice you'd like to share for budding artists?

MB It's hard work! You have to work through some rough patches to get to the good bits. Be regular and consistent with the work and level of output. Some days I'll come to the studio, clean up - that kind of activity is just as important as the days when i'm getting work done. Oh and stick with it. Good things will come.

MG As a gallery, we are thrilled to have you join our opening roster at such an exciting time for Momentum and the Asheville art scene as a whole, today. What's exciting you the most right now?

MB I've known Jordan for many years, 17/18 years I think. He's always been a real champion of my work. When he started his own gallery - I felt I should move with him. I'm excited about the number of artists too - it's smaller which means it can be more focused. Jordan understands and appreciate the process, the making of a piece and what went into the finished result. From an artist's point of view, it matters that it's understood.
Asheville is such a vibrant city, with the university being here especially. It's always been a place for fine craft in the region which is exciting. It's getting a lot of national and international attention. It's a beautiful place too and the people are honest, accessible, open. It's pretty progressive.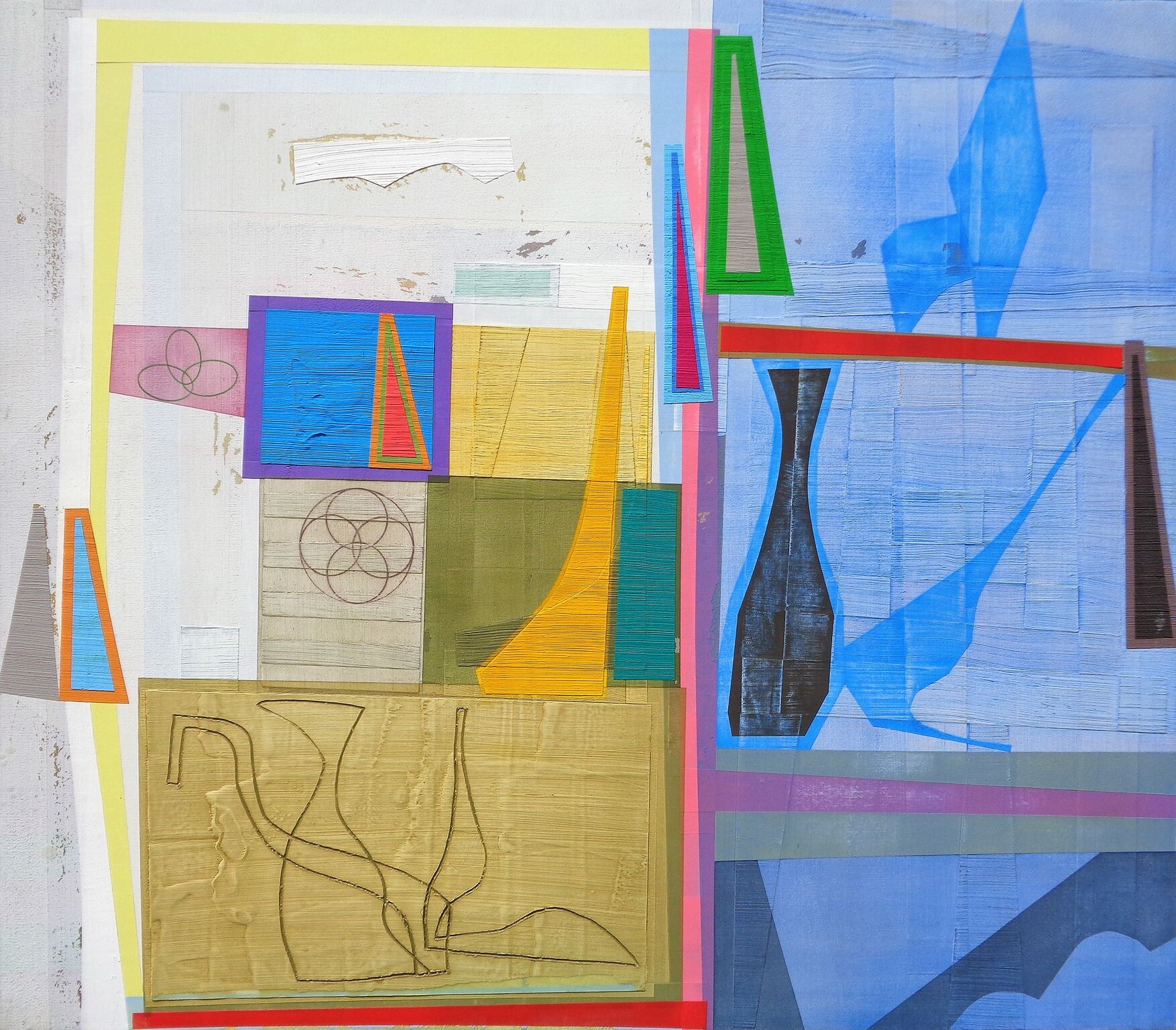 Bloomstone (Curio Cabinet), mixed media on panel, 42 x 48 inches
MG Michael, as ever, thank you for being part of the Momentum Gallery family. We look forward to a wonderful year ahead together.
Michael will be one of the artists represented in Momentum Gallery's booth at Art Wynwood, February 15-19. His work can also be viewed at the gallery or by visiting https://momentumgallery.com/artists/35-michael-barringer/works/