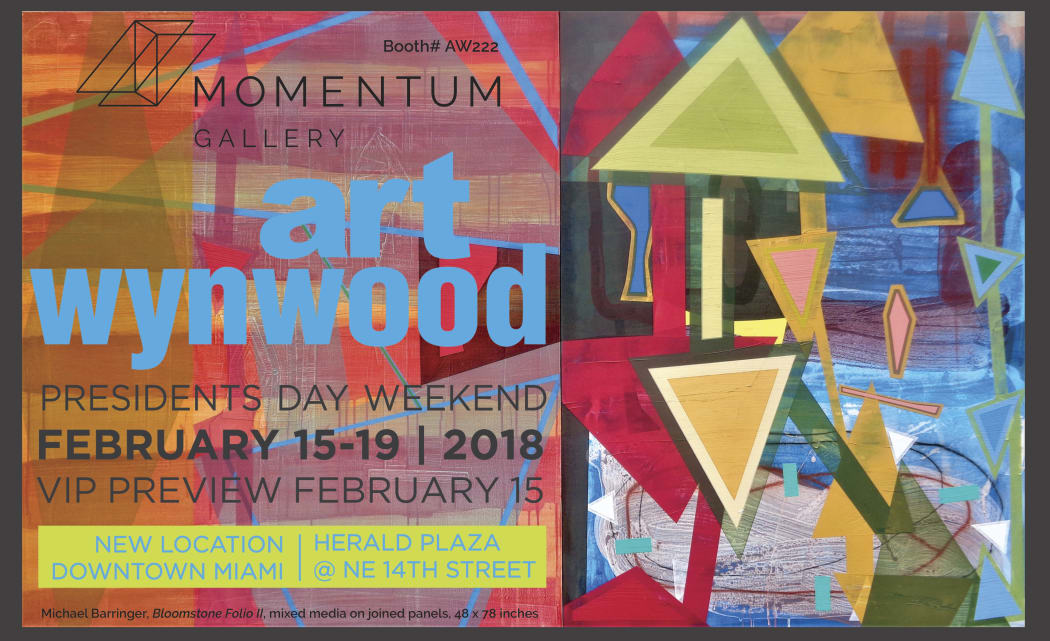 We are so proud to be returning to south Florida for Art Wynwood, Presidents Day Weekend, February 15 - 19, 2018. This is our third art fair in the four months since we opened; we're not called Momentum for nothing! Building upon the relationships we have been establishing, we can't wait to showcase even more of our artists and their work in Miami's dynamic and cosmopolitan art market. If you'd like to join us at the fair, please contact the gallery for complimentary tickets! Momentum Gallery is located at Booth #AW222.
We are thrilled that Hoss Haley's Low Shoulder Erratics were selected to be presented in Wynwood's Art in Public Spaces! Additionally, Michael Barringer's Bloomstone (Newgrange IX) was selected as the cover feature image for Artsy's Art Wynwood microsite! Congratulations to both of these incredible artists for getting such well-deserved recognition!
From artwynwood.com:
Since its inception in 2012, Art Wynwood has become the premier winter destination contemporary and modern art fair in South Florida, and offers the most diverse, affluent and culturally savvy international audience in the United States. Produced by Art Miami, the Art Wynwood fair will debut its seventh edition during Presidents Day Weekend, February 15 - 19, 2018, at the former Miami Herald site, which also is the new home of Art Miami and CONTEXT Art Miami, and welcomed 80,000 visitors during Miami Art Week 2017...

Art Wynwood will continue to showcase a dynamic array of works, featuring emerging talent from the contemporary market, mid-career artists, blue chip contemporary, post-war and modern masters.

Nestled between the Venetian Causeway and MacArthur Causeway, and just east of Biscayne Boulevard, Art Wynwood will offer an unprecedented level of convenience to and from Miami Beach while being located in the heart of the cultural epicenter of Miami. The new location will offer a renewed connectivity to the 29th annual Miami International Boat Show where the "World's Most Expensive Yachts are on display for acquisition", with complimentary shuttle service between the two daily.
Original works by the following artists will be featured in Momentum Gallery's booth:
Michael Barringer
Thor & Jennifer Bueno
Christian Burchard
David Ellsworth
Drew Galloway
Amy Gross
Hoss Haley
Ron Isaacs
Anne Lemanski
Jeannine Marchand
Maltby Sykes (1911-1992)