ASHEVILLE GALLERY EXPANDS WITH "MOMENTUM AT HAMILTON HILL"
SATELLITE GALLERY IN DURHAM – FIRST SHOW OPENS FRIDAY, SEPTEMBER 20th, 6-9PM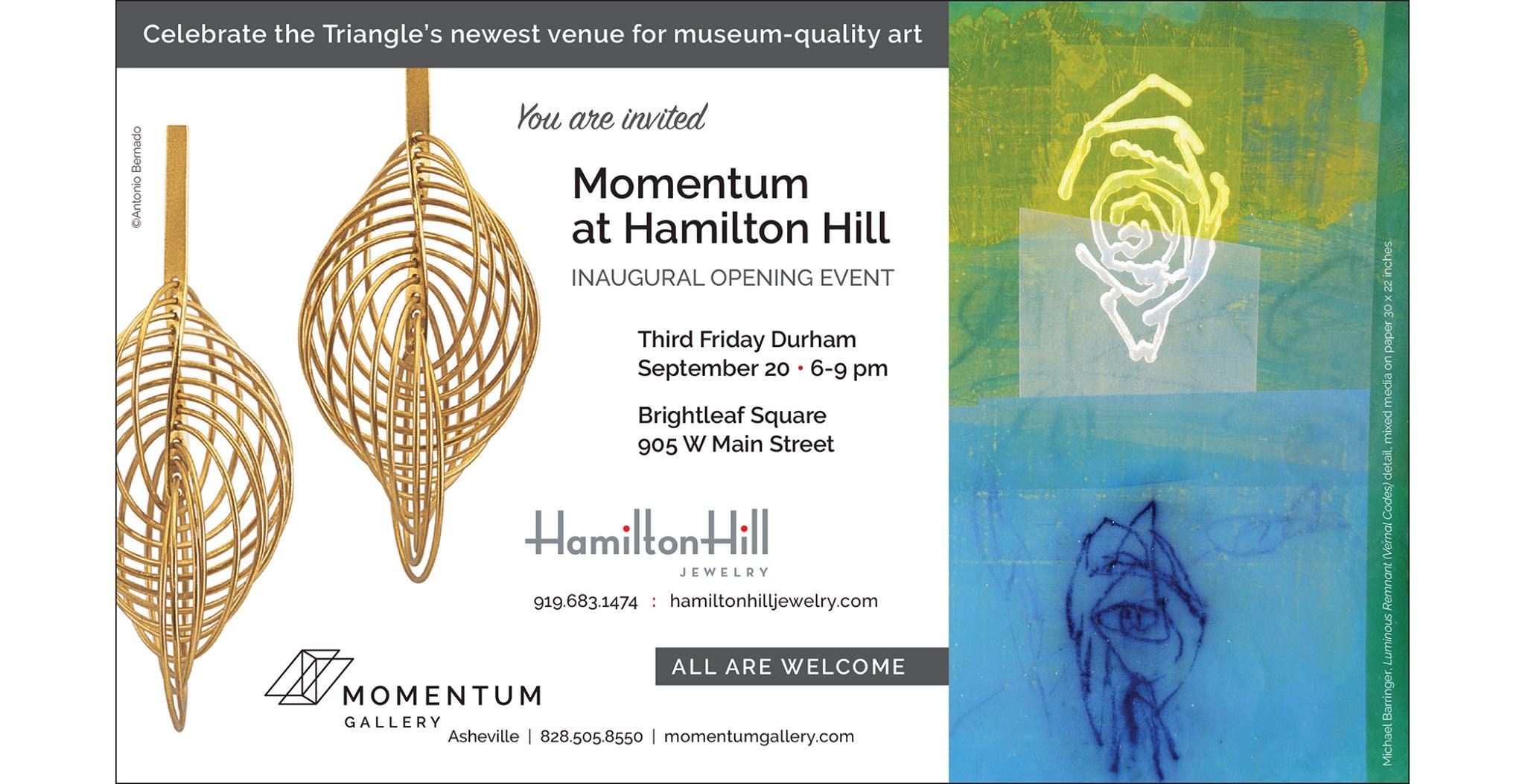 Hamilton Hill Jewelry, located in Brightleaf Square, and Asheville-based Momentum Gallery, announce a partnership to provide the Durham and Triangle area new access to museum-quality artwork. Hamilton Hill, a boutique-style jewelry store focusing on modernist designers, will continue with its mission of nearly twenty years while adding visual arts to its offerings. The partnership with Momentum Gallery commences with a reception during Third Friday Durham on September 20 when Hamilton Hill will debut original 2-D and 3-D works by several notable artists from North Carolina and beyond. Please join us from 6-9pm! All are welcome.
The initial Momentum at Hamilton Hill collection will consist of recent works in a variety of media by several premier North Carolina artists including Thor & Jennifer Bueno (blown glass); Hoss Haley (fabricated steel); Bill Hall (minimalist collage); Anne Lemanski (original prints); and Jeannine Marchand (abstract ceramic sculpture). The inaugural collection will also feature works by artists Michael Barrringer (paintings); Ron Isaacs (trompe l'oeil constructions); Casey Roberts (cyanotype paintings); and Michael Enn Sirvet (powder-coated aluminum sculpture). Artwork will be refreshed quarterly and exhibitions showcasing individual or paired artists are planned.
Hamilton Hill Jewelry offers one of the finest and most exclusive selections of designer jewelry found in the U.S. With the addition of selling fine art curated by Momentum, owner Sarah Hill and founder Michael Hamilton are realizing a dream as both consider art their avocation and once considered pursuing curatorial roles and museum work. It is their shared passion for art and design that has inspired their jewelry choices and influenced Hamilton Hill's gallery-like decor and environment. Seeking design excellence, style variety, and a broad price range, Hamilton Hill curates the best in contemporary jewelry from the US, Europe, South America, and beyond. Jewelry includes modernist platinum, high-karat gold made with ancient techniques, naturalistic sterling silver, sleek stainless steel, and even rubber and aluminum jewelry.
Hamilton Hill's mission is To Serve and Delight, making them the perfect partner for Momentum Gallery. We are delighted to welcome you and look forward to serving you at our new satellite location in Durham!