Save the Date -- Thursday, July 15, 5-8 pm
Reception for Summer Exhibitions
We are thrilled to open the following summer shows in our new space located at 52 Broadway Street!
The gallery is honored to provide our clientele access to exceptional graphic works by some of the contemporary art worlds' most exciting artists. Picture That flows between abstraction and representation with works by renowned artists Chakaia Booker, Will Cotton, Raymond Pettibon, Sara Sanders, Chuck Webster, and more. Master printer and Prints and Their Makers author Phil Sanders curated the collection. Sanders comments, "The positive potential of this world is only limited by our ability to imagine it anew. This exhibition of prints and monotypes demonstrates the power of an artist's vision to influence our world with the images they conjure."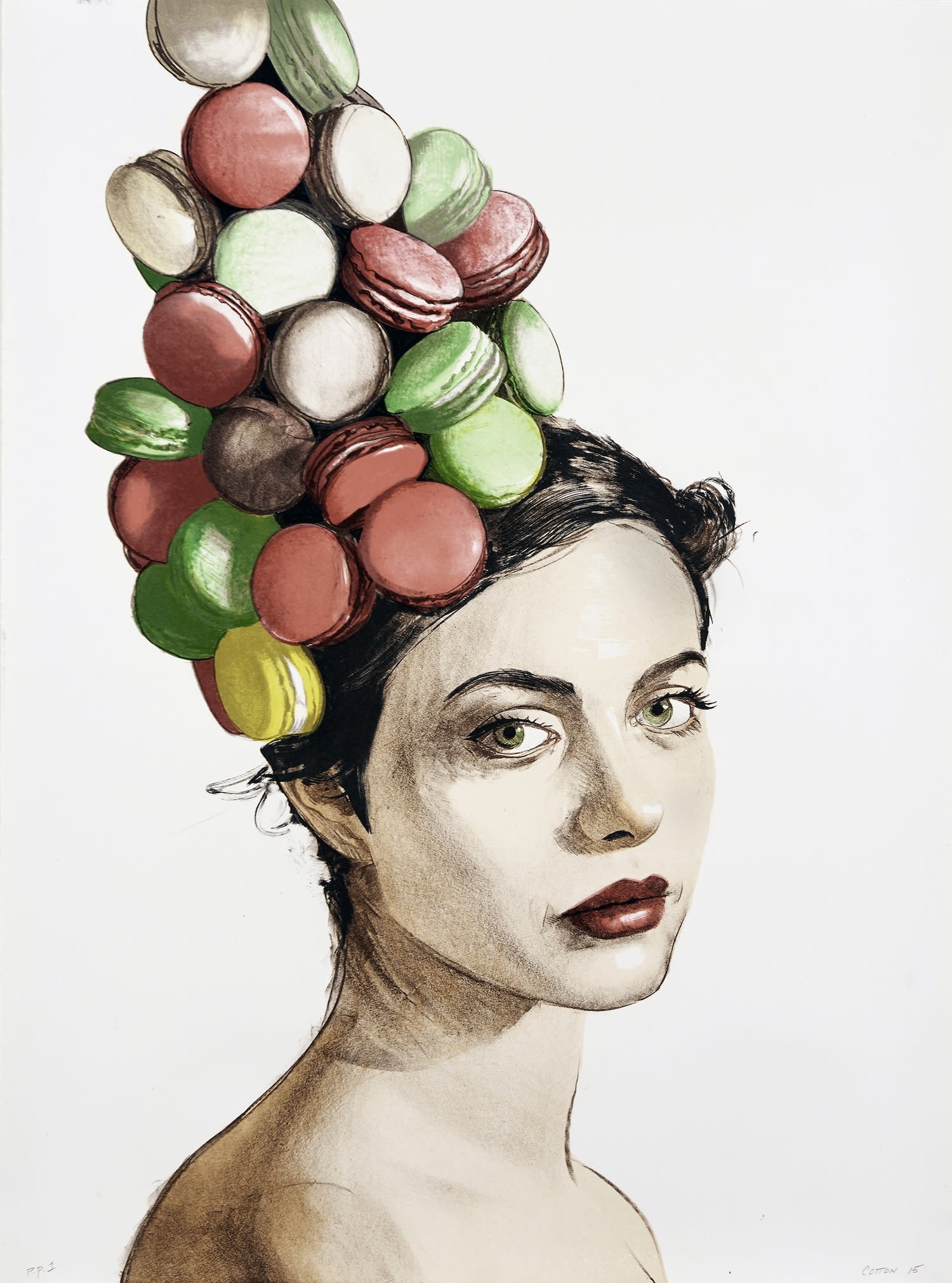 Will Cotton, Deferred Promise, 15-color lithograph on
Hahnemuhle Copperplate, 37-1/2 × 28 inches, Ed. 25
(2015)
Momentum welcomes back Paul Sattler for his second solo show with the gallery. Sattler's recent oil paintings and drawings are a tour de force. With cinematic vision, Sattler presents obscure narratives in complex, multi-character compositions. The artist also occasionally reimagines historic paintings as looser and more abstracted arrangements.
Paul Sattler, Backyard Remedy (by Fire), Oil on canvas on board, 48 x 52 inches (2021)
Three artists --Jessica Calderwood, Jennifer Halvorson and Casey Roberts-- create thoughtful and introspective work with an atmosphere of domesticity. Dreamy cyanotype paintings on paper relate to evocative cast glass and clever mixed media sculptures, depicting still life, figurative, and animal subjects.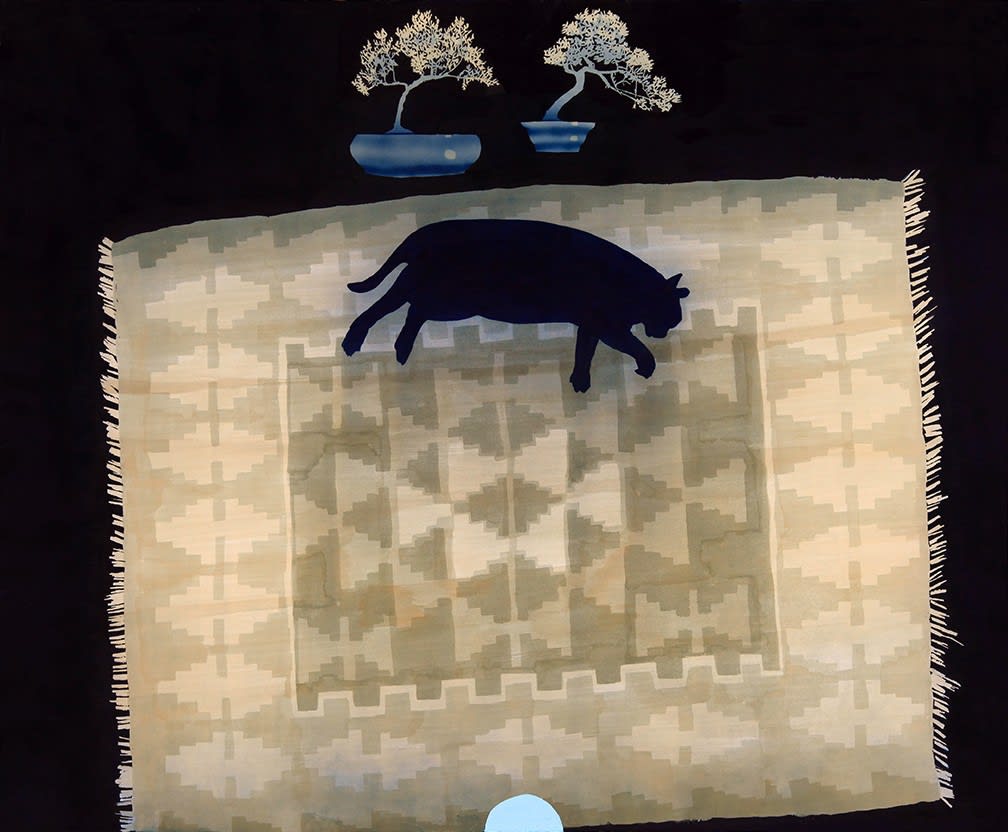 Casey Roberts, Cat on rug with bonsai, Cyanotype painting on paper with enamel,
42 x 52 inches.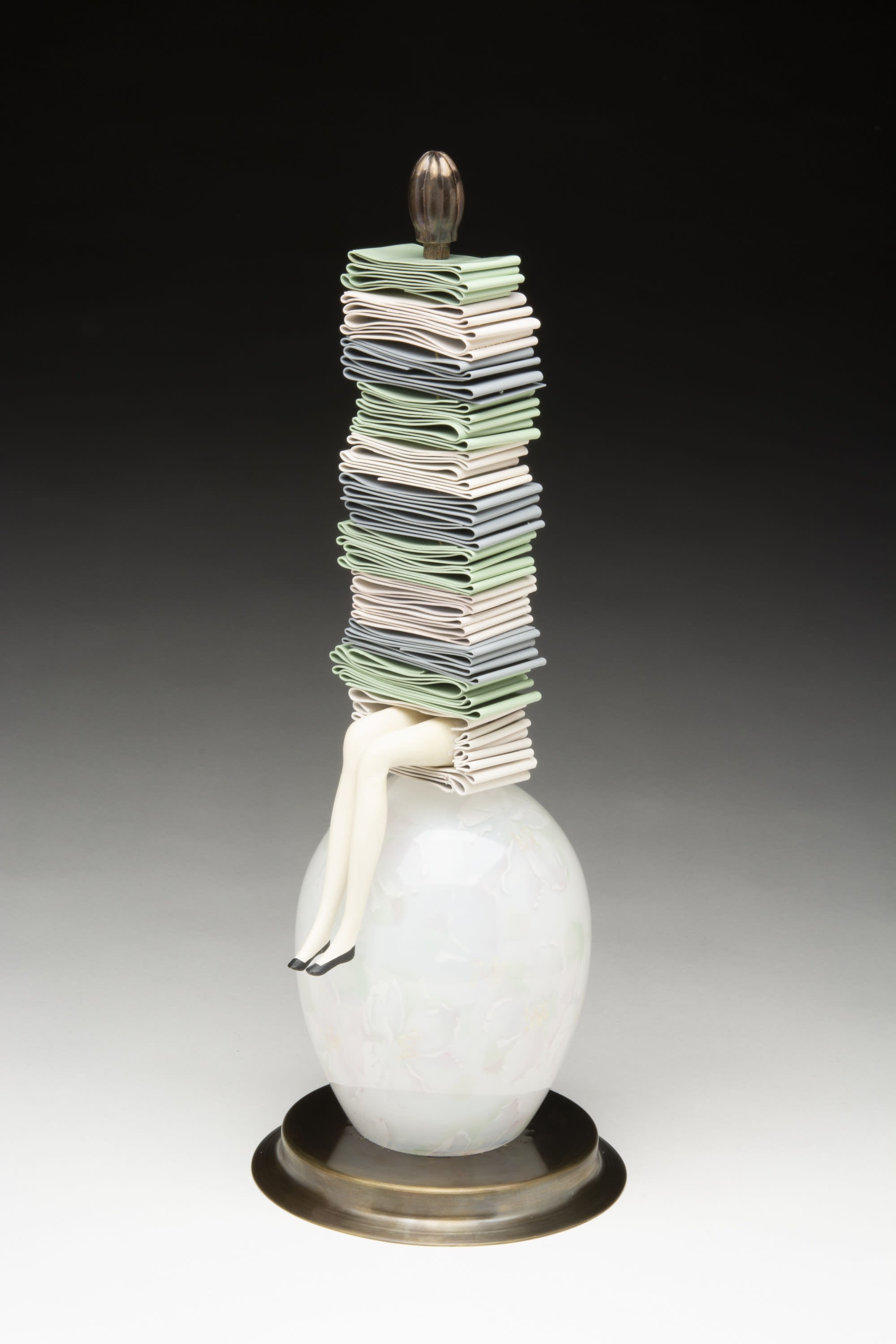 Jessica Calderwood, Stacked, Aluminum, powder coating,
cast bronze, brass, blown glass, ceramic decals, porcelain,
milk paint, 15 x 6 x 6 inches.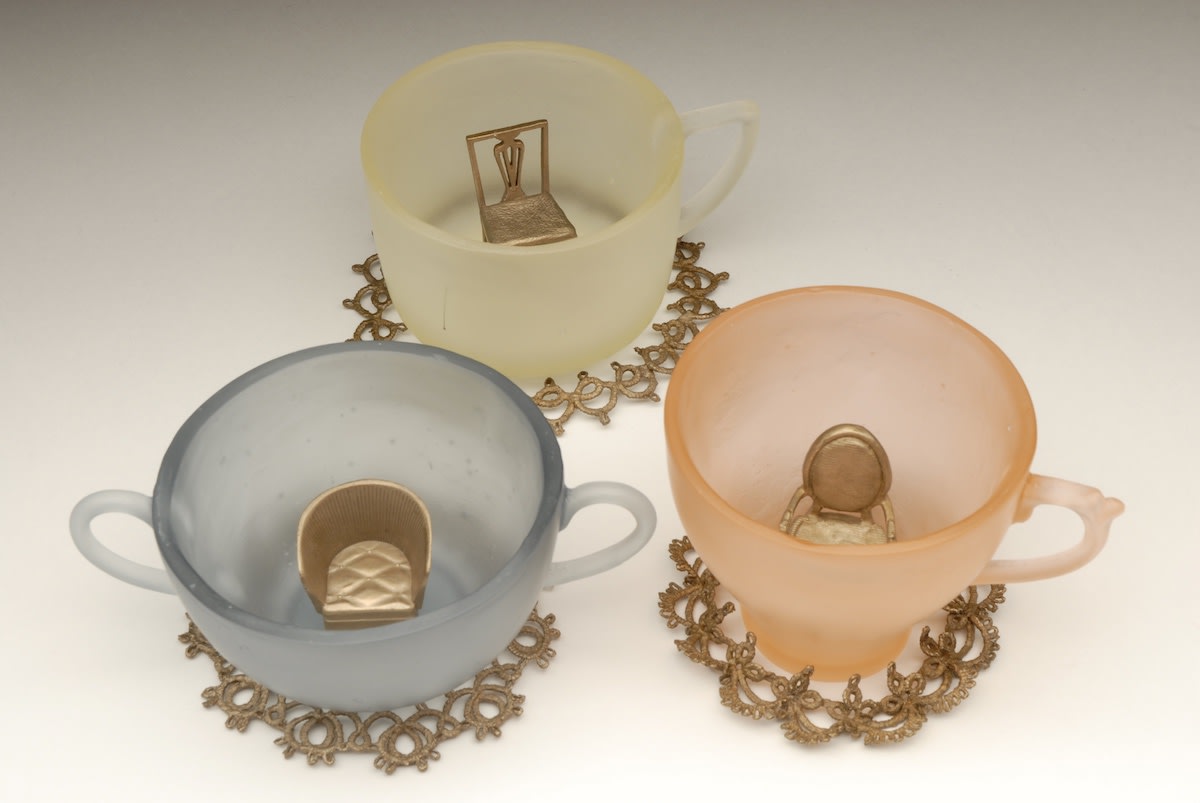 Jennifer Halvorson, group of Thirst Cups. Cast glass, cast
bronze, @2-1/4 x 4-1/4 x 4 inches, each.
The beauty in nature is realized in Ivy Jacobsen's botanical paintings that unfold in great stylized detail, conveying a sense of space through a signature layering technique. The artist comments, "For the last 10 years I've been focused on creating the illusion of depth within my landscapes. It is my hope that the viewer is invited 'into' the picture to explore and keep discovering new things within the layers."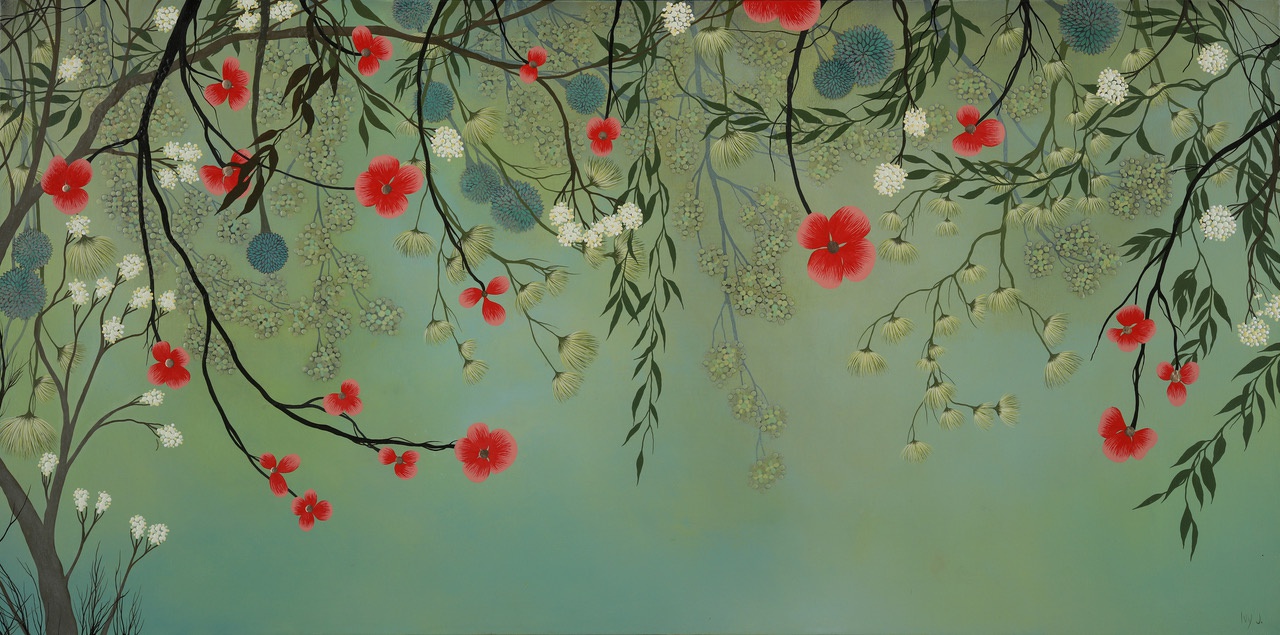 Ivy Jacobsen, Hybrid, No. 6 Red Blooms, Oil, acrylic & collage on canvas, 24 x 48 inches (2021)
Brian Sostrom's landscape paintings feature sweeping skies and intimate woodland moments. The dramatic works appear illuminated from within. Sostrom notes, "Currently I paint with translucent acrylics on a specially developed substrate. I am combining techniques with unusual materials."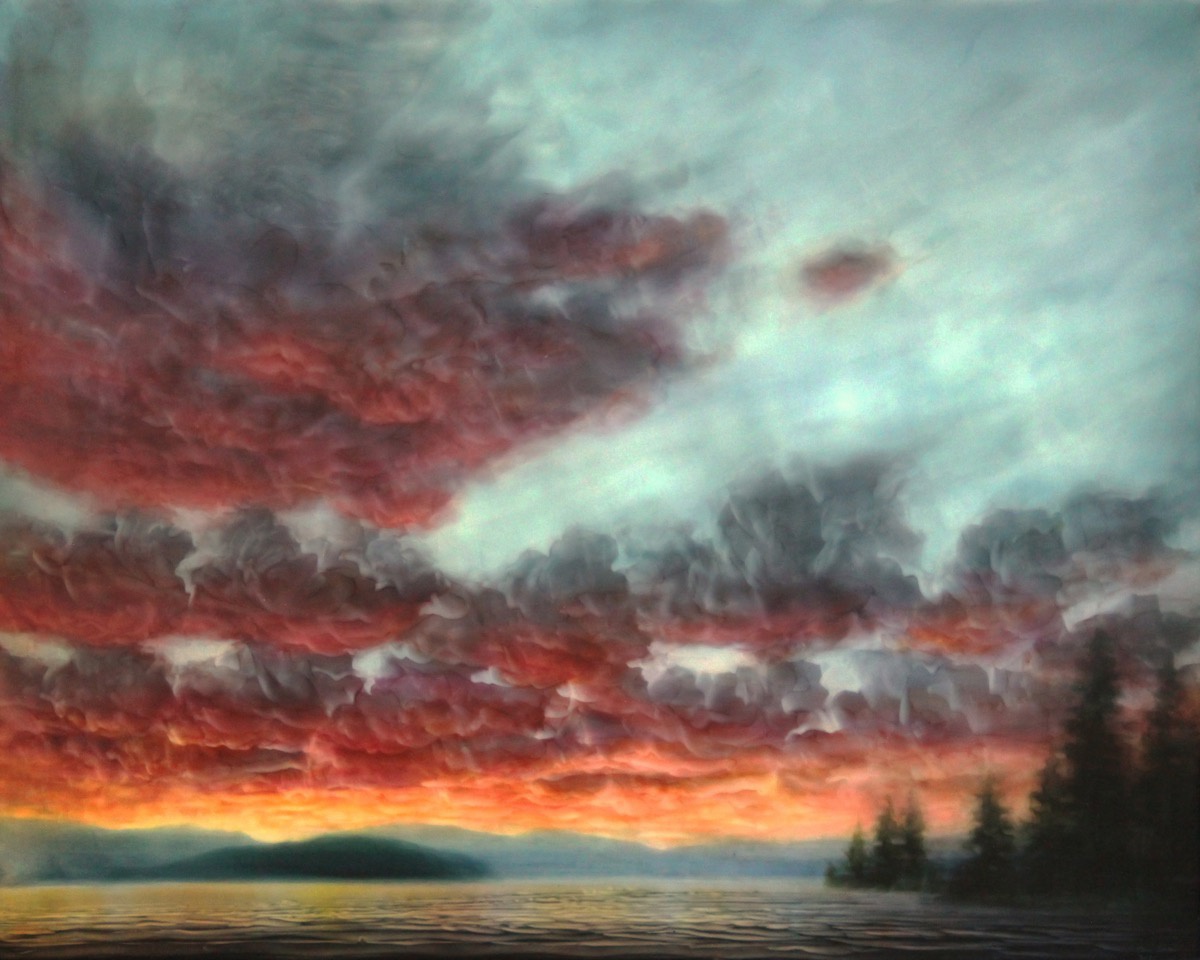 Brian Sostrom, Evening Rose, Acrylic on panel, 24 x 30 inches.
Momentum Gallery is extending Samantha Bates' solo exhibition through October. An immersive collection of Bates' paintings, textiles, and works on paper is reimagined on the gallery's second floor. While some works have been removed, the gallery expects to receive additional works in October when Bates visits Asheville to paint a mural (at the back of 52 Broadway).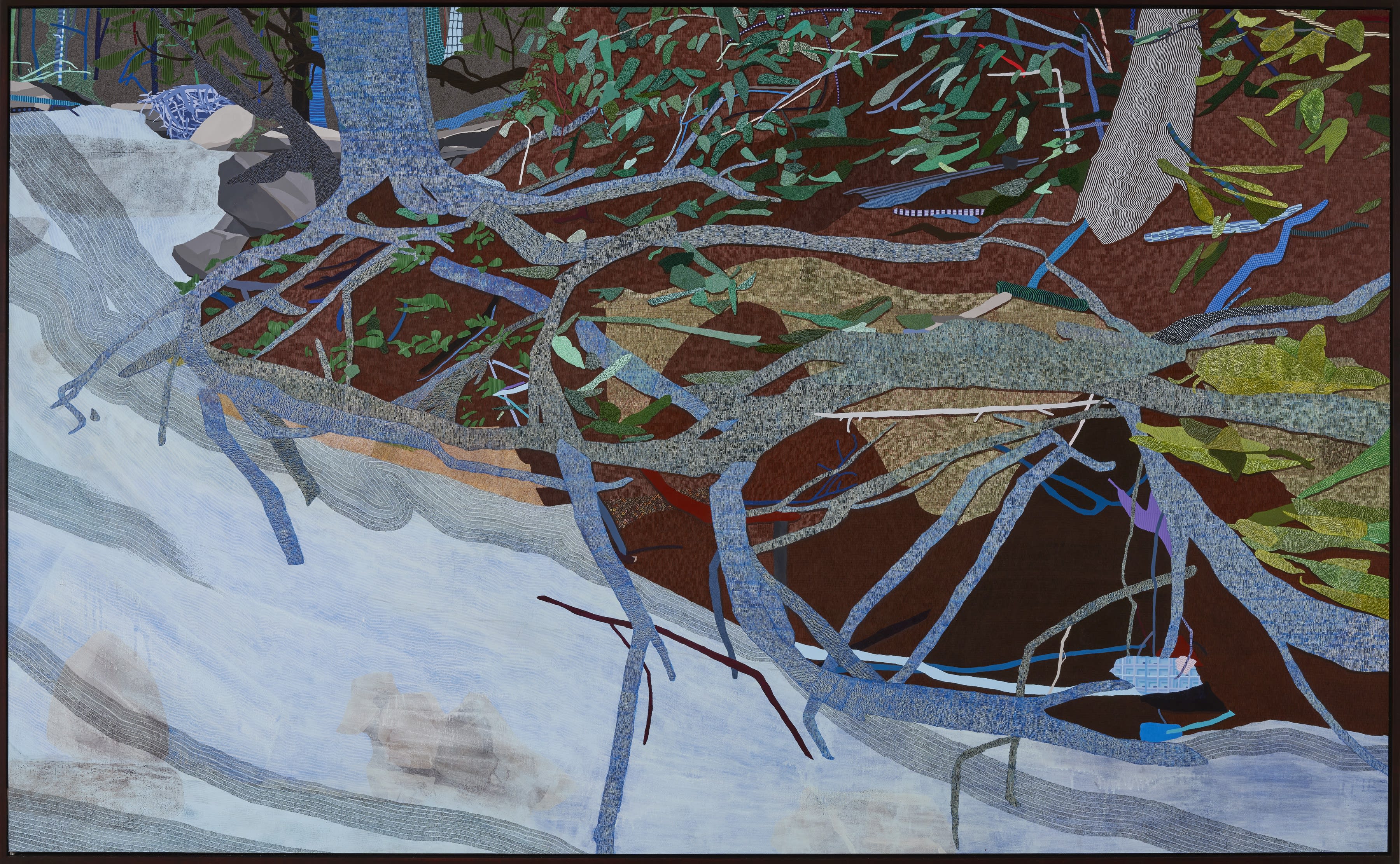 Samantha Bates, Follow the River, Acrylic, gouache, colored pencil and artist pen on primed canvas, mounted to dibond, 51-1/2 x 84-1/2 inches.
Save the Date -- Thursday, July 15, 5-8 pm
opening reception for these exhibitions